Curator Roberta Casagrande-Kim Leads a Tour of "Romance and Reason" via NYU's Facebook Live!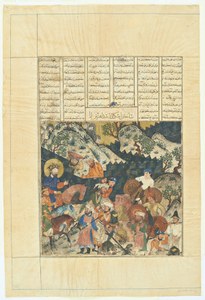 NYU News' Sapna Parikh interviewed curator of ISAW's exhibition Roberta Casagrande-Kim, Assistant Manager of Exhibitions and Publications at the Alexander S. Onassis Public Benefit Foundation (USA). Roberta lead a tour through both galleries in the exhibition, Romance and Reason: Islamic Transformations of the Classical Past; the "romance" gallery exhibits Islamic interpretations of Alexander the Great's conquests and voyages and the "reason" gallery is filled with examples of interpretations of Greek medicine, mathematics, astronomy, astrology, and philosophy.
Shahnamah
Recto: Iskandar Builds the Iron Rampart
Author: Abu al-Qasim Firdausi (940–1019 or 1025); Copyist: Unknown; Language: Persian
Ink, opaque watercolor, and gold on paper
Folio: H. 59 cm; W. 39.7 cm
Iran, Tabriz, ca. 1330–40
Arthur M. Sackler Gallery, Smithsonian Institution; Purchase—Smithsonian Unrestricted Trust Funds, Smithsonian Collections Acquisition Program, and Dr. Arthur M. Sackler: S1986.104
Image (c) Freer Gallery of Art and Arthur M. Sackler Gallery, Smithsonian Institution, Washington, D.C.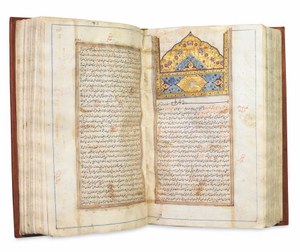 The exhibition explores how the story of antiquity reads as an endless cycle of expansion, conflict, and conquest. Yet despite the divisions that existed among peoples and nations, the exchange and appropriation of ideas, images, and heroic figures across cultures knew no boundaries, with the Classical World retaining a particular appeal across countries and beliefs. Romance and Reason focuses on these shared ideas and transmutations of imagery as expressed through Islamic manuscripts from the 11th through 18th centuries, a particularly rich and fertile period for these works.
The Canon of Medicine (Al-qanun fi al-tibb)
Folio 386 verso: Opening of the Fourth Book
Author: Avicenna (980–1034); Copyist: Timurid court workshop;
Language: Arabic
Ink and gold on paper
Folio: H. 25.5 cm; W. 16 cm
Iran, early 15th century
Courtesy of U. S. National Library of Medicine: MS A 53
Image © ISAW / Bruce M. White, photographer, 2017 
Watch the full interview below!
From medicine to math to astrology to Alexander the Great—a sneak peek at the Institute for the Study of the Ancient World's new exhibition exploring Islamic interpretations of classical Greek ideas and images. We'll show you how stories from the ancient world evolved over time and how they impact your life today!