Director Emeritus Roger Bagnall Receives an Honorary Doctorate from the Université Paris - Sorbonne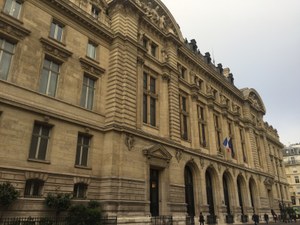 On October 11, 2016, Leon Levy Director Emeritus Roger Bagnall was awarded an honorary doctorate, a "Docteur Honoris Causa," from the Université Paris-Sorbonne. The award was presented by Dr. Dominique Mulliez, Associate Professor of Ancient Greek Literature and Civilization at the Université Paris-Sorbonne.
In his letter announcing the award, Professor Barthelemy Jobert, President of the Université Paris-Sorbonne, praised Professor Bagnall as "a world-renowned professor of classics and history and an internationally acknowledged leader in the field of papyrology," who embodies "what our university values most, your impressive works on Ancient history being for us an essential scientific reference and a major contribution to the defense of classics and humanities."
In connection with the award ceremony conferring this degree, Professor Bagnall delivered a lecture entitled "Vingt Ans Après: Reading Papyri, Writing Ancient History Revu" at the 2016 Conférence des Docteurs Honoris Causa.