Congratulations, Tisa and Emma!
It's graduation time, and so the season for congratulations, good-byes, and good lucks. The ISAW Library is very proud to recognize the work of two of its graduate student workers who are graduating this year, Tisa Loewen and Emma Sarconi.
Tisa started in the ISAW Library at the beginning of Spring Term 2016 while she was working on her Masters in Anthropology at NYU. We were very lucky to get her, as her research into bioarchaeology was right up ISAW's alley. For the past two years Tisa has worked with the University of Zadar and The Nadin-Gradina Archaeological Project, assisting with analysis of human skeletal remains from the Nadin-Gradina necropolis, which was primarily used during the Iron Age transition that saw the Liburnian people of Croatia's Ravni Kotari region incorporated into the Roman cultural and political orbit.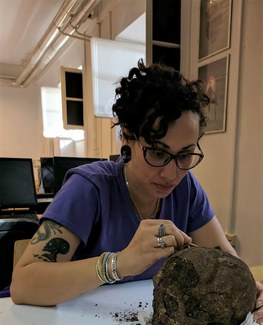 Her work there  culminated in her thesis, "Analysis of Fragmentary and Commingled Necropolis from Iron Age, Nadin, Croatia." We are very happy to report that next month Tisa will enter the anthropology doctoral program in the Center for Bioarchaeological Research at the School of Human Evolution and Social Change (SHESC) at Arizona State University.
I will personally remember many stimulating conversations with Tisa about cultural contact, Roman influence, and archaeology, and none of us in the Library will ever forget the time that she insisted that we put on her funky VR headset to take a 3D tour of the excavation without leaving the circulation desk!
(If you ever run into Tisa, just say "yes" when she asks you if you want to wear the headset.)
Emma began work in the ISAW Library almost exactly two years ago this June while studying as a dual Masters student in Library Science at Long Island University and English Literature at NYU. If Tisa was our bioarchaeological Clio, Emma was our bibliographic Calliope. Though not ancient, her research focused on book history in a way that resonates with ISAW's interest in the material side of ancient literate culture. Her thesis, "Mass Produced Personal Treasures: Exploring Value and Reprinting In Two Nineteenth-Century American Gift Books," explored the printing, advertising, and distribution history of The May Flower for 1855, a gift book that was a reprint of The Lily of the Valley for 1854, for what this history can tell us about the complex relationship between personal and commercial value that books embodied in the mid-nineteenth century.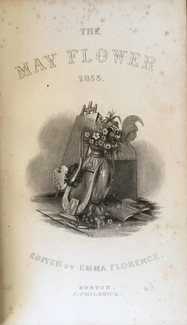 Emma presented a summary of her thesis in the 2018 Threesis competition, bringing home second prize for her work. Later in July she will present a paper, "Voyage: Archibald MacLeish and his Irreplaceable, Impossible Friend," at the 18th Biennial International Ernest Hemingway Society Conference in Paris, France and participate in the Principles of Bibliographic Description course at Rare Book School at the University of Virginia. In September, Emma will begin a position as an associate public services librarian in the department of Rare Books and Special Collections at Princeton.
Emma is precisely the kind of librarian you hope to run into in an academic library: she deeply appreciates all aspects--intellectual, technological, artistic, commercial, and emotional--of the complex object we call the book. I have always left conversations with Emma realizing that I knew less than I had thought about books, but inspired to fresh readings of these seemingly familiar objects.
The ISAW Library and the ISAW community have benefited immensely from Tisa's and Emma's hard work, initiative, professionalism, and thoughtfulness, and we were particularly fortunate to have them here during a time of transition, as the Library has embarked on multi-stage projects and new areas of service. We will certainly miss them; but it gives all of us in the ISAW Library tremendous pleasure to think that each in her own way has now become a colleague and an alumna, one in archaeology and the other in libraries. We wish you the best of luck in your future endeavors and hope to see you back at ISAW very soon!