Event Home
04/03/2018 01:15 PM
ISAW Galleries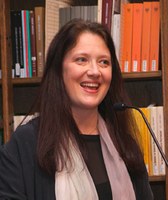 NYU News Interviews Roberta Casagrande-Kim
(Facebook Live)
Roberta Casagrande-Kim
Romance and Reason gallery tour and interview.
04/03/2018 06:00 PM
ISAW Lecture Hall
Rostovtzeff Lecture Series: The Sky over Ancient Iraq: Babylonian Astronomy in Context
Lecture II: Keeping the Watch: Babylonian Astronomical Diaries and More
Mathieu Ossendrijver
Note: We are now fully booked for this event and are only accepting names for the wait-list. Due to inclement weather on March 21st, the first lecture of the Rostovtzeff series has been rescheduled for March 28th, and the second lecture of the series has been rescheduled for April 3rd. The second lecture will focus on the astronomical diaries and related texts, which are observational reports that emerged in Babylonia during the seventh century BCE and continued to be written for at least six centuries. Apart from astronomical phenomena, market prices, weather phenomena, river levels and historical events were also reported in these texts. They provide unique opportunities for reconstructing observational practices and the predictive methods to which these texts turn out to be intricately linked.
RSVP