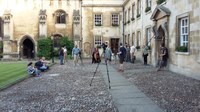 Film Screening: "The Poor Man of Nippur" in the Original Language
"The Poor Man of Nippur" is a comic folk tale in Babylonian language. The main manuscript is a clay tablet from 701 BC found at the site of Sultantepe, in South-East Turkey. It probably stems from an ancient scribal school. The story is 160 lines long, laid out in verse. Recounted by a third-party narrator, it tells of the three-fold revenge which one Gimil-Ninurta wreaks on the local Mayor, after the latter wrongs him.

In 2017 the story was a "set text" for Cambridge Assyriology students, who thought it would be interesting to dramatize it (in the original language, of course). The project grew in complexity and ambition, until it ended up as a short film — probably the first of its kind – directed by current ISAW Visiting Research Scholar Martin Worthington. English subtitles are provided.

The actors are/were all members of the Cambridge Assyriological community, and locations were used in and around Cambridge, including the British Museum.

The film will be launched open-access online later this year. To accompany the screening, current ISAW Visiting Research Scholar Eva von Dassow will speak about the issues of social history which underpin the story.  Martin Worthington will discuss issues arising from the making of the film, such as the different perspectives which dramatization brings to ancient literature, and how modern scholars reconstruct the pronunciation of Babylonian.
Registration is required at isaw.nyu.edu/rsvp
Admission to event closes 10 minutes after scheduled start time.  
Reception to follow. 
Please check isaw.nyu.edu for event updates.
On a limited, first-come, first-served basis, ISAW is able to provide assistive listening devices at public events in our Lecture Hall. To ensure an optimal listening experience, we recommend that guests bring their own headphones (with a standard 1/8-inch audio jack) to connect to our devices. Please direct questions, comments, or suggestions to isaw@nyu.edu.