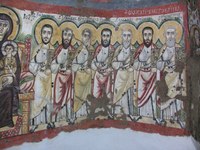 Coptic Museum 7118. Painted prayer niche from Room 6, Monastery of Apa Apollo.  Later 6th to 7th century.  Photograph courtesy of Heather Badamo
Watching Them Watching Us: Learning to Look at the Earliest Monastic Portraits from Late Antique Egypt
Visiting Research Scholar Lecture
Thelma Thomas (ISAW & IFA)
The earliest monastic portraits from Late Antique Egypt represent elders as exemplars of ascetic life who have taken their places among the saints in heavenly paradise.  Their portraits depict them watching their charges intently and ready to intercede on behalf of those on earth who strive to join them.  This presentation explores some of the ways in which devout monks looking back at these portraits might initiate and sustain a shared regard as part of their transformative ascetic work.
This lecture is sponsored by The Achelis Foundation.
NOTICE: Admission to the ISAW Lecture Hall closes 10 minutes after the scheduled start time.
There will be a reception folowing the event.
This is a public event.
To RSVP, please email isaw@nyu.edu.