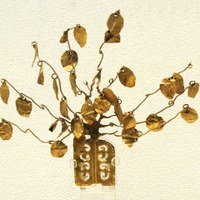 Gold cap ornament, H. 5-3/4 in. Fangshen village, Belpiao county, Liaoning province, late 3rd to mid-4th century CE. Liaoning Provincial Museum, Shenyang, China. Photo by Sarah Laursen.
Visiting Research Scholar Lecture: Leaves of Gold
Head Ornaments from Xianbei Tombs in Northeast China
Sarah Laursen
Over the last fifty years, excavations of dozens of Six Dynasties tombs in China have yielded gold artifacts decorated with a combination of openwork, granulation, stone inlay, and gold leaves attached by wires. The third to fifth century Xianbei burials of Northeast China in particular contain large numbers of gold plaques that are thought to have adorned the heads of the elite. These enigmatic ornaments—which have clear visual antecedents in China, on the steppe, and in the Greek world—raise new questions about Xianbei interactions with neighboring populations. This lecture will explore the visual and textual evidence for the origins of this distinctive decorative tradition, paying special attention to the manufacturing process as a barometer of cultural assimilation.
Sarah Laursen holds a BA in East Asian Studies and Art History from New York University and an MA and PhD in East Asian Languages and Civilizations from the University of Pennsylvania. Her research focuses primarily on gold personal adornments from Eastern Han to Sui dynasty (26 – 618 CE) tombs and explores how this facet of material culture reflects Chinese interactions with the nomadic populations of the northern steppe. Her project at ISAW, "Unearthing the Ancient Craft: The Art of Goldsmithing in Early Medieval China," will investigate gold objects excavated throughout China and their relationship to the metalworking traditions of Inner Asia, the Mediterranean, and Mesopotamia. This research expands the scope of her doctoral dissertation on the third to fifth century CE Xianbei tombs of Northeast China, drawing upon the methodologies of art history, archaeology, and conservation science, as well as the hands-on study of metalworking, in an effort to identify the cultural and artistic heritage of the medieval Chinese goldsmith.
There will be a reception folowing the event.
To RSVP, please email isaw@nyu.edu.