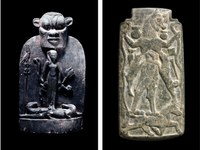 Left: Painted wooden cippus showing Horus standing on crocodiles. Possibly from Memphis, Egypt. Late Period, after 600 BCE. Right: Lamashtu amulet with incomplete cuneiform inscription: representation of the demon Lamashtu standing on an ass suckling a jackal and a wild pig. Dated to 800-550 BCE. Copyright The British Museum, all rights reserved.
Visiting Research Scholar Lecture: Comparative demonology: the case of Ancient Egypt and Mesopotamia
Rita Lucarelli
The term "demons" (Greek daimones) is generally employed by scholars to indicate those supernatural powers and embodied creatures, which, in most religions, function as lesser gods, protectors, or malevolent spirits towards humankind on earth and in the netherworld. A comparative approach, exploring analogies, differences and close interrelationships among beliefs in demons is greatly helpful in order to disclose the demons' nature and to investigate the role they play within the hierarchy of divine and supernatural powers contemplated in ancient and modern religions. In particular, this paper will explore avenues of comparison among the demonologies of ancient Egypt and Mesopotamia, which provide sound examples of the complex and multifaceted magical practices and knowledge on demons in the pre-Christian Mediterranean world. On the basis of the textual and iconographical evidence produced during the long span of time during which these civilizations have risen and developed, but with a special focus on sources dating to the 2nd and 1st Millenniums BCE, a few main categories of demonic beings will be outlined and discussed comparatively, such as guardian-demons, female-demons, illness-demons and astral demons.
There will be a reception folowing the event.
To RSVP, please email isaw@nyu.edu.