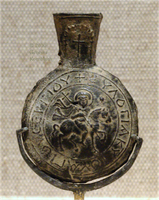 Sergius ampulla, 6th-7th cent. Syria. Lead & tin alloy, inscribed "EULOGIA of Lord St. Sergios." Copyright and permission by Genevra Kornbluth (www.KornbluthPhoto.com).
Visiting Research Scholar Lecture: Christian Wealth and the Challenge of Charity in Early Byzantium
Daniel Caner
Early Byzantium (also known as the Roman Empire of the East, c.450-600) was the first complex Christian society and the first to see the extensive accumulation of church and monastic wealth. Derived from a burgeoning tradition of imperial subsidies and lay gifts, this accumulation also brought serious challenges: How did sacred wealth differ from that of the "sinful," secular world? How did Christian authorities reconcile it with an ideology of ascetic holiness based on material renunciations? How, in particular, could they meet the religious needs of lay patrons while avoiding the corrupting influence of their gifts? As explained in this lecture, one solution was the development of a repertoire of Christian charitable gifts, each designed to address a different religious need or concern: "alms" given to the poor to absolve sin, "offerings" given to churches or monasteries to render thanks to God, and another type of Christian gift called a eulogia, or "blessing." Conceived as a gift bestowed by God on deserving people through the agency of a human donor, blessings were also considered free from both sin and a need to reciprocate. In this way they provided both a real and conceptually "pure" basis for sacred wealth that could support holy people while answering expectations of charity.
Daniel F. Caner is Associate Professor in History and Classics at the University of Connecticut, Storrs, where he has been since receiving his Ph.D. in Ancient History and Mediterranean Archaeology in 1999 from the University of California, Berkeley. Specializing in the social and religious history of late antiquity, his work has dealt primarily with ideals and challenges connected to the rise of Christian monasticism in the Roman world, as exemplified by his books Wandering, Begging Monks: Spiritual Authority and the Promotion of Monasticism in Late Antiquity (Berkeley 2002) and History and Historiography from the Late Antique Sinai (Liverpool 2010). In 2004-2005 he was a Fellow in Byzantine Studies at Dumbarton Oaks in Washington D.C. and in 2007 was a Visiting Scholar at Hebrew University's Institute for Advanced Study, positions that were devoted to studying aspects of religious wealth and gift-giving in the Late Roman East. At the Institute for the Study of the Ancient World he will be writing a comprehensive book on the subject entitled The Rich and the Pure: Christian Gifts and Religious Society in Early Byzantium.
There will be a reception folowing the event.
To RSVP, please email isaw@nyu.edu.