Emily Hammer Hired as Director of the Center for Ancient Middle Eastern Landscapes
by

dd102@nyu.edu
—
Mar 26, 2014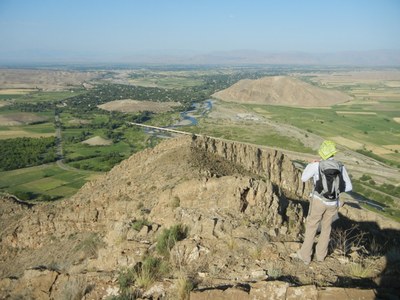 Emily Hammer standing on the east side of the Arpa River looking south. In the middle-ground, isolated mountain is the fortress of Oğlanqala. Photo by Lara Fabian, July 2012.
This August, Emily Hammer, ISAW Visiting Assistant Professor, will start her new role as the director of the lab at the Center for Ancient Middle Eastern Landscapes (CAMEL)  at the Oriental Institute of the University of Chicago. The lab's mission is to investigate long-term change in Middle Eastern landscapes through the analysis of spatial data and satellite imagery using Geographical Information Systems.
Emily joined ISAW's Visiting Research Scholar Program in 2012, developing her research and fieldwork on ancient settlement patterns and environment in southeastern Turkey and western Azerbaijan. In that time, she's also been teaching courses on Geographical Information Systems in Anthropology and Archaeology, landscape archaeology, and the history of water in the Middle East here at ISAW and in the Department of Anthropology.