Book on Amheida excavations published
Announcement of publication of a book on the excavations at Amheida written for a general audience.
by

Roger Bagnall
—
Jun 03, 2013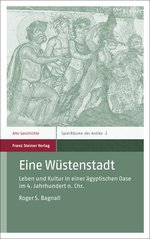 Franz Steiner Verlag (Stuttgart) has published Eine Wüstenstadt. Leben und Kultur in einer ägyptischen Oase im 4. Jahrhundert n. Chr., by ISAW director Roger Bagnall. The book presents the results of the excavations at Amheida, in the Dakhla Oasis of Egypt, that started in 2004 and continue as an ISAW field project. The book results from the Häcker Lectures given at the University of Heidelberg by Bagnall in 2010 and has been updated to include excavations in 2011 and 2012.
The book can be ordered directly from the publisher, or via online booksellers like amazon.de.