Exhibitions News
Pompeii in Color: The Life of Roman Wall Painting
January 26 – May 29, 2022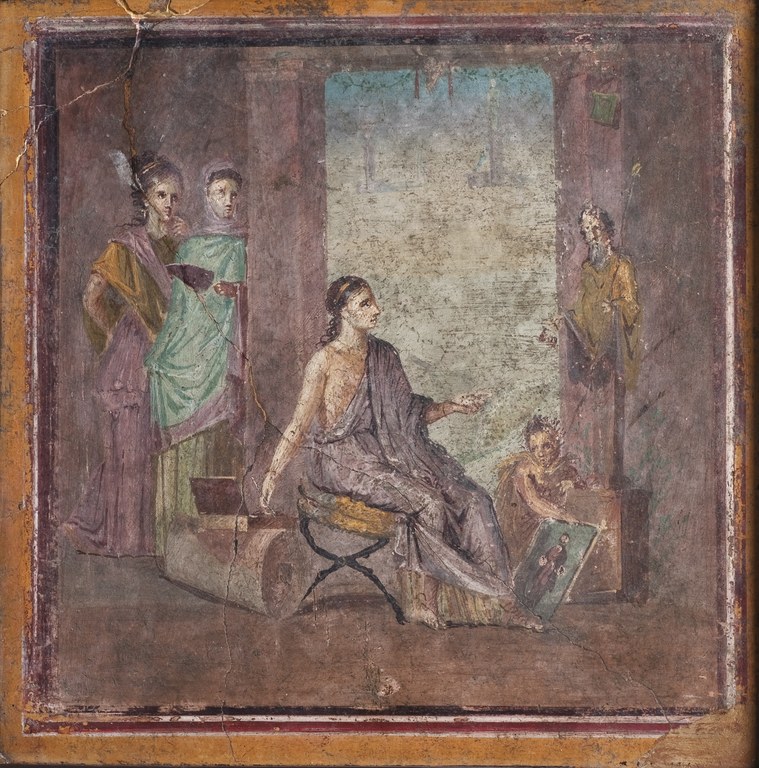 Painter 1st century CE Fresco House of the Surgeon, Pompeii H. 45.4 cm; W. 45 cm; D. 6.4 Museo Archeologico Nazionale di Napoli: MANN 9018 The streets of Pompeii in the first century CE were lively and bustling thoroughfares, crowded with people of all walks of life, and residential buildings stood side-by-side with workshops, food stalls, shrines, and more. Nestled within these spaces of frenetic activity were elite Pompeiian villas where one could leave behind the unpredictable streets and step into carefully crafted homes brimming with elaborate wall paintings, sculptures, furniture, mosaics, and lush colonnaded gardens. Each thoughtfully selected element was intended to make a visual statement about the homeowner's identity and values—and the survival of brilliantly colored frescoes, a result of Vesuvius's eruption in 79 CE, allows us a peek into this world today.
Among these important and rare finds are paintings representing dynamic mythological scenes, inviting landscapes, sumptuous still lives, astonishing trompe-l'oeil, captivating portraits, and energetic genre scenes. Made of materials usually vulnerable to damage and loss over centuries, these remarkably well-preserved frescoes invite us to see beyond the ashes of the tragic city, and instead experience the vibrant world of the ancient Roman home as the Pompeiians themselves knew it.
In January 2022, ISAW will bring over thirty of these masterpieces to our galleries from the National Archaeological Museums of Naples. Seldom seen outside of Italy, this exhibition will be an exciting opportunity to explore Roman life in full color and to consider how these ancient paintings influenced generations of modern scholars.