Community: Incoming Doctoral Students
New Doctoral Students, Fall 2021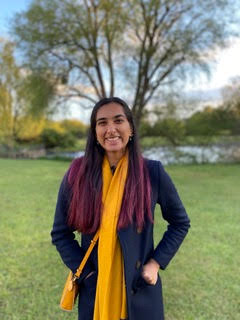 Lylaah L. Bhalerao comes to ISAW as a Fulbright scholar (All Disciplines Award 2021-22) from London, England. She has a background in Classics, having received a BA (2020) and MPhil with Distinction (2021) in Classics from the University of Cambridge. It was at Cambridge that Lylaah began to specialise in ancient art and archaeology. During her MPhil year, she developed a particular interest in decolonising methodologies and challenging the 'classical' canon, having become aware of how the discipline of Classics has historically been implicated in colonial and racist cultures and systems. These ideas culminated in her thesis "Displaying Greece in the British Museum in the Era of Decolonisation."
Lylaah is committed to critical, cross-cultural approaches to ancient art and heritage, and it is this that brings her to ISAW. She is also a member of a group of early career researchers working on Critical Ancient World Studies, with an academic publication and a textbook for school children in the works. Having grown up in a mixed Hindu-Muslim family, but then trained as a Classicist, she is particularly interested in how Islamic and Hindu cultures interacted with the Greco-Roman world: from the Aphrodite of Knidos to Yakshi and Lakshmi figures in Sanchi, from the Parthenon Mosque to Ayasofya. At ISAW, Lylaah intends to further expand her knowledge of the ancient world beyond traditional Classics, and to specialise in decolonising heritage sites in the east Mediterranean and sculptures from those sites that have ended up in American and European museums. Building on her MPhil thesis, she also hopes to develop curatorial skills, thinking about how we can display ancient sculptures in cross-cultural, conversational ways and decolonise exhibition spaces.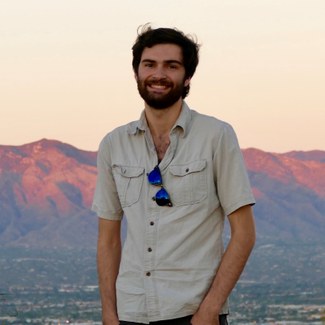 Braden Cordivari received his BA in Classical Studies and Anthropology with a minor in Archaeological Science from the University of Pennsylvania in 2018. His undergraduate thesis presented excavation results and contextualized the Beyceğiz tumulus, a Phrygian monument at Gordion in central Anatolia, where he is a member of the research project. He has also excavated at Morgantina on Sicily as part of the Contrada Agnese Project. He was the John Williams White Fellow at the American School of Classical Studies at Athens in 2018-19, taking part in the Regular Year program. Braden completed an MPhil in Archaeological Science at the University of Cambridge in 2020-21 with a thesis on 15th/17th century technical ceramics and copper metallurgy in the Niari Basin, Republic of the Congo.
At ISAW he plans to use methods of archaeological science to investigate technology, provenance, and systems of knowledge around craft production in Anatolia and Greece during the Iron Age from a comparative perspective. He is interested in human-environment interactions around raw materials, in particular metals, and in the wider interconnectivity of the late 2nd and early 1st millennium BCE world. He is also interested in public outreach via museums and in building upon his experiences in curatorial practice at the Penn Museum.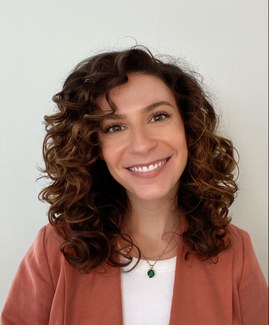 Samantha Rainford received her BA in Near and Middle Eastern Civilizations with a focus on Biblical studies from the University of Toronto. She completed her MA at New York University in the Ancient Near Eastern and Egypt Studies program with an emphasis on the Hebrew Bible and the ancient Near East. Her thesis, "Women as Primary Heirs at Emar: Intersexuality as a Legal Fiction for a Patrilineal Society," investigates the designation of women as primary heirs through their establishment in "male" status in legal texts from Late Bronze Age Syria. Her project explores the connections between inheritance law, gender, and household religion at Emar as they are reflected in extant legal documents concerning the family and household succession.
With her background in Hebrew Bible and the ancient Near East, Samantha continues her research in first and second millennium Mesopotamia and hopes to study the interaction between Anatolian and Mesopotamian cultures in second millennium Syria. While at ISAW, she intends to focus her research on the means by which law and religion are intertwined in the ancient Near East. In particular, she hopes to research the relationship between religion and jurisprudence as well as allusions to law in non-legal textual evidence and how they shape cultural memory.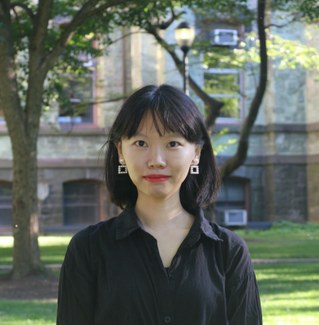 Jingyi Zhou earned her Bachelor's degree and a first Masters' degree in Archaeology at Wuhan University, as well as a second Masters' degree at Department of East Asian Languages and Civilizations, University of Pennsylvania. Trained as an archaeologist at Wuhan University, she has gained proficiency in tackling Chinese material culture, with field work experiences in Anhui, Hubei, Sichuan, etc. on settlements, urban fortifications, tombs, kiln sites and so on from the Neolithic to the early modern period. She became deeply involved with Buddhist art when working in Sichuan and conducted her thesis on the 7th-10th century CE Buddhist relief sculptures around the Chengdu region. At University of Pennsylvania, she enhanced her capability as a sinologist and received cross-disciplinary training on art history, philology, paleography, intellectual history, and ethic history.
This background, experiences, and knowledge stimulate her interest in the ethnic groups from central and eastern Eurasia in Chinese history. Contextualizing Chinese historiography of conquest dynasties, the formation of nation-states in the Sixteen States period and multi-cultural empires from the Northern Wei, she hopes to decipher the driving force of Xianbei's transformation from a steppe empire to a "Sinicized dynasty." She is inclined to look at their settlement and cities, ritual constructions, tombs, Buddhist monuments and artifacts, delving into urban planning, funerary practice, hybrid and widespread artistic motifs of the Xianbei and their relationship with the Xiongnu, Tungus, and Sogdians. She wishes to explore the population dynamics, religious diversity, globalization, and cultural complexity of Early and Medieval China (1st-10th century CE) employing studies mostly on archaeology, art history, history, and also address scientific methodologies.