Exhibitions
The Empire's Physician: Prosperity, Plague, and Healing in Ancient Rome
Opening February 26th, 2021 5 pm EST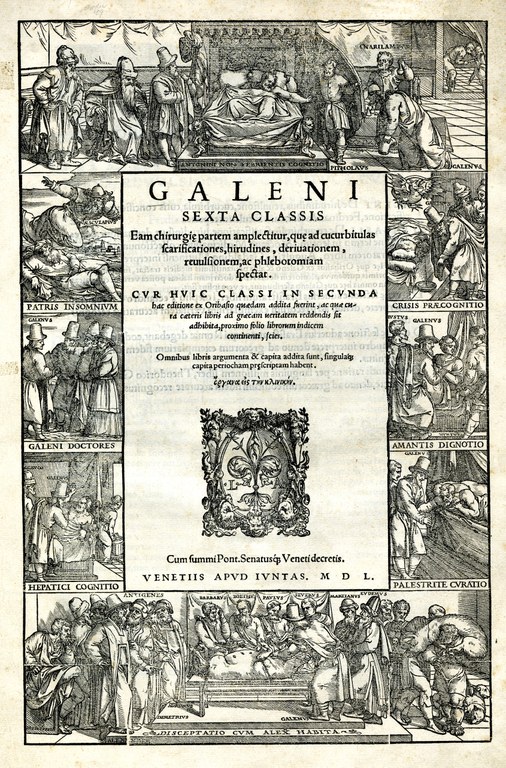 Figure 1: Click to Enlarge.
The Institute for the Study of the Ancient World is delighted to be launching its first virtual exhibition this coming February, The Empire's Physician: Prosperity, Plague, and Healing in Ancient Rome. Presenting the life of the influential Roman doctor Galen (ca. 129–216/7 CE), this richly-illustrated, interactive online exhibition will situate the doctor's biography within the ancient medical landscape as well as within his broader historical situation. A learned, accomplished physician, he treated a range of patients—men and women, adults and children, peasants and emperors—afflicted with a variety of conditions. Additionally, he described several crises of his day, including the Great Fire and the Antonine Plague. Galen's prolific writings provide not only an account of the ancient healing arts and attendant debates, but also a broader sense of life in the Roman Empire.
The exhibition will open with an elegant and playful animated short film that quickly gives visitors a basic introduction to Galen and a sense of his centrality in the history of medicine. The website itself is divided into eight chapters, organized roughly chronologically following different phases of Galen's career, but each of these sections has a different thematic focus to allow visitors multiple points of entry for a fully self-directed digital experience. 
One chapter tells the story of Galen's family background and introduces Pergamon, the place of his birth, as well as a notable religious healing site in the Eastern part of the Roman Empire. Subsequent chapters contextualize the physician's medical education within the broader academic context of his day—Galen was a follower of ancient Greek physician Hippocrates and his theory of the humors—while other sections of this online exhibition introduce different, non-academic approaches to medicine in the ancient world. Religious and magical healing practices, as well as traditional Roman folk medical traditions, are all discussed alongside striking illustrations of temples, votives, amulets, and sculptures, some rendered in 3D.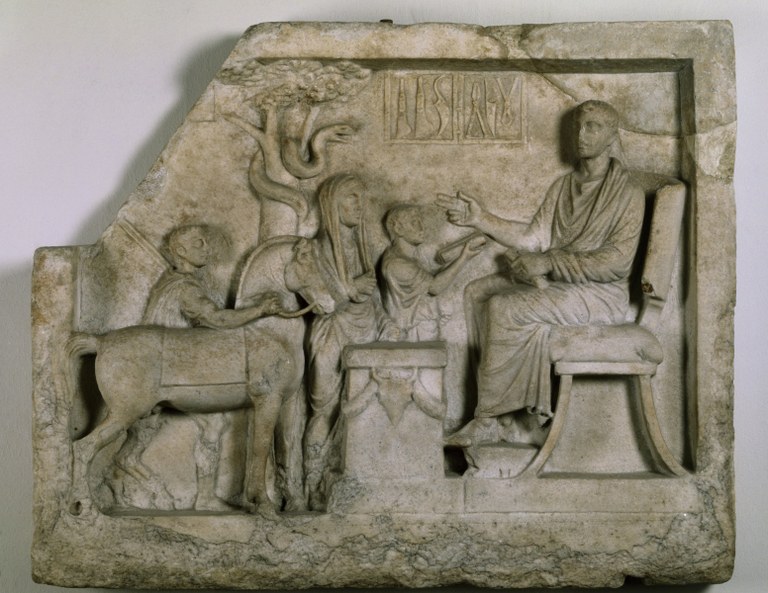 Figure 2: Click to enlarge Several chapters focus on different points of Galen's medical career and emphasize distinct areas of practice including preventative care, pharmacology, and surgery. Colorful mosaics, beautifully illustrated medicinal plant guides, and photographs of ancient medical instruments (some that look familiar to us today) bring the story of ancient medicine to life in relatable ways. Following the physician's movements through different areas of the Roman Empire, several chapters also describe the living conditions in second-century Rome: from an account of the political backdrop of its emperors' philosophies and wars, to descriptions of everyday life for poor residents in a crowded metropolis. The more specific cultural context of Roman medicine—the competitive nature of the bedside, ethical questions of charging patients for care, and advice to patients on how to choose a doctor—also come to the fore. These discussions illustrate the range of Galen's voluminous writings as well as his diverse audiences.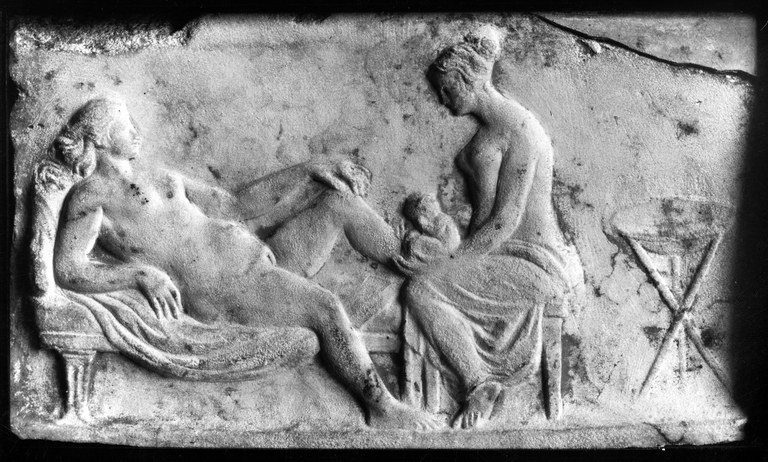 Figure 3: Click to enlarge. Galen's case histories form the core of this exhibition and patient narratives are woven throughout the various chapters: the physician treated almost every kind of person in the Roman Empire and his patients include the urban elite, rural peasants, slaves, professional gladiators, lovesick ladies, and even the emperor Marcus Aurelius. Women's health as well as the role of female doctors and midwifery, too, are discussed in chapters strikingly illustrated by relief carvings representing birthing scenes, statues, and inscriptions. In addition to Galen's clinical practice, special attention is also devoted to his theoretical writings with an emphasis on anatomical research; his work on anatomy remained the standard until the Renaissance. One subsection is devoted specially to the afterlife of Galen's anatomical theories and the beginning of medical illustration.
One cannot find an area of contemporary medical practice that does not connect in some way to Galen's expansive legacy: his contributions are significant in the history of medicine, back to the ancient world. This exhibition will include narratives from medical professionals and scientists reflecting on their field and its connection to antiquity. Discussions of Galen's intellectual tradition will extend to online public programming.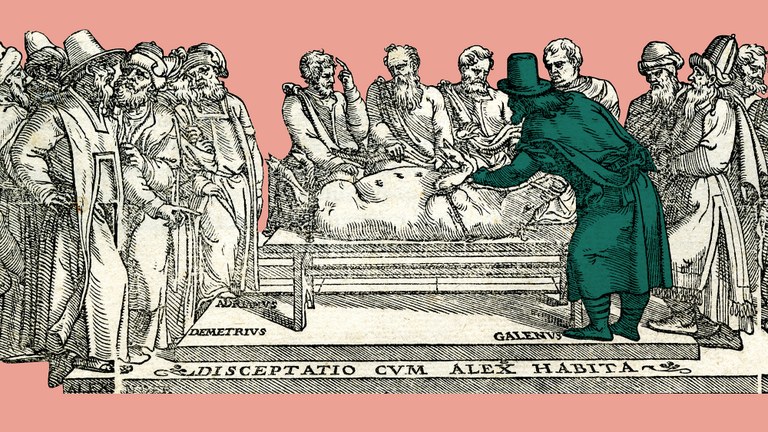 Figure 4: Click to enlarge. The visual identity for the exhibition was adopted from a frontispiece illustration to a 16th century Venetian edition of Galen's complete works translated from the original Greek into Latin. This graphic work comes to life as visitors navigate their own path through the website. Strikingly, Galen is depicted wearing a costume more typical of dress in the 1500s than 2nd century CE. This design element, although factually inaccurate, has been self-consciously preserved as a way of visualizing an important dimension of the exhibition thesis: Galen's enduring legacy is also a product of the different ways he was understood over time; thinkers have read Galen's writings with an eye to their own medical queries and reshaped his theories according to the advancements of their own eras. ISAW's digital exhibition is another chapter in this ongoing tradition: although the presentation is virtual, it is anchored in the history of the written word and complemented by vivid, imaginative images.
The Empire's Physician will give visitors a chance to explore many different dimensions of this wide-ranging healer and thinker as well as diverse patient perspectives through personal narratives, historical descriptions, object histories, manuscripts, illuminations, architectural recreations, as well as interactive digital features, and more, in a scholarly-yet-accessible style.
This exhibition is made possible by generous support from the Stavros Niarchos Foundation (SNF) and the Leon Levy Foundation. Additional support provided by Dr. Angelo D. Reppucci.
---
Figure 1: Title page from Galeni Opera Omnia (Venice, 1550).
Figure 2: Grave or votive relief representing a heroized doctor; near the doctor's head is an open box or cabinet with surgical instruments. Roman, 1st century BCE–1st century CE. Marble, probably created in the Peloponnese, Greece, H. 67 cm; W. 83 cm; D. 7.5 cm. Antikensammlung der Staatlichen Museen zu Berlin – Preußischer Kulturbesitz: SK 804.
Figure 3: Relief representing a midwife attending a birth. Roman, 2nd century CE. Wellcome Collection.
Figure 4: Still from the introductory animated short depicting Galen performing a pig dissection. Based on a detail of the title page from Galeni Opera Omnia (Venice, 1550).