Community: Students
Commencement 2020
Two ISAW doctoral students successfully defended their dissertations and graduated in 2020: Andrea Trameri and Shujing Wang. The circumstances of spring and summer 2020 in connection with the COVID-19 pandemic resulted in significant changes to the normal procedures and activities connected with the dissertation defense and commencement for these students. We are extremely proud of the ways in which Andrea and Shujing overcame this challenging situation and produced excellent dissertations as a capstone to their doctoral work at ISAW. Over 55 ISAW community members, friends, and family members across three separate continents participated in Andrea's remote dissertation defense via Zoom on April 9, 2020. Similarly, over 30 people from around the globe were able to participate remotely in Shujng's recent defense on September 9, 2020. As a community, ISAW extends our heartiest congratulations to both of our recent graduates! We wish you all the best as you move into the next stage of your career and life!
Our PhD Graduates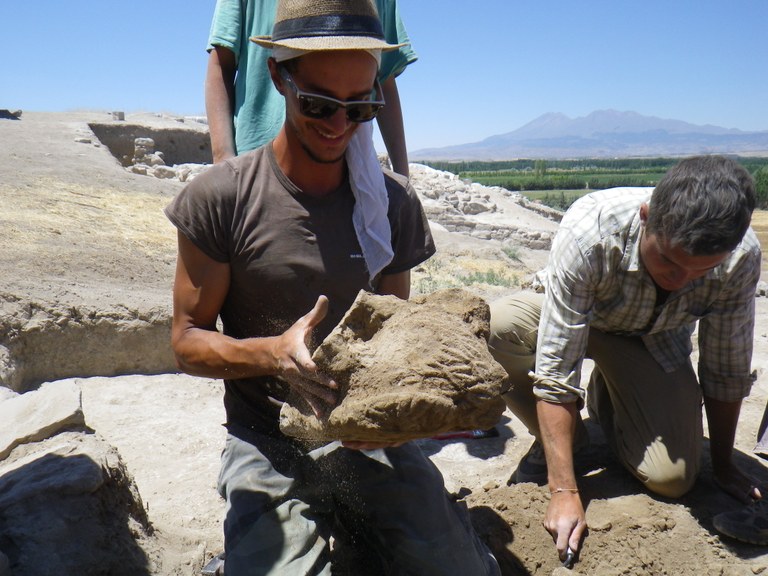 Andrea Trameri examines an excavated object at the archaeological site of Kınık Höyük in Turkey.
Andrea Trameri received his BA in Classics and Ancient Near Eastern Studies and his MA in Philology, Literature, History of the Ancient World from the University of Pavia, Italy. During his time at ISAW, Andrea was the recipient of several fellowships and grants, including the Harris Grant of the American Schools of Oriental Research (2015), a travel grant from the NYU Antonina S. Ranieri International Scholars Fund (2016), and the NYU Graduate School of Arts and Science Lane Cooper Dissertation Research Fellowship (2018-19). Andrea's forthcoming monograph, Purifying a House from Blood: A Hittite Ritual for the Ancient Gods (CTH 446), an expanded version of his MA thesis at the University of Pavia, is being published by Lockwood Press and is expected to appear in print next year.
Andrea's ISAW doctoral dissertation is entitled "The Land of Kizzuwatna: History of Cilicia in the Second Millennium BCE until the Hittite Conquest (ca. 2000-1350)." According to his advisor Prof. Lorenzo d'Alfonso, "Andrea's dissertation provides a unique attempt to reconstruct the history of a polity that played a major role during the Late Bronze Age (1600-1200 BCE). Despite the fact that this polity, named Kizzuwatna, was for a period one of the great powers of the ancient Near East, neither their central court nor the neighboring powers provide us with a coherent political or cultural history of it. With great patience and competence, Andrea has collected all evidence and clues from archaeological contexts and written sources on the land of Kizzuwatna within the region of Cilicia, but also away to Cyprus, Egypt, Assyria and above all Hittite Anatolia. Moving from a wealth of micro-evidence, piecing them together with a careful historical method, Andrea has been able to plot a powerful synthesis of an interconnected, multi-cultural political power which greatly influenced and defined most of the worldview of the Hittite court in a way that can be compared to the impact of Greek culture on Rome."
This fall, Andrea is starting a new position as Professor of Latin and Literary Subjects at Liceo IIS Pinchetti in Tirano, Lombardy, Italy. In this role, he will teach a variety of subjects, including history (particularly ancient history), Latin language and literature, and Italian literature.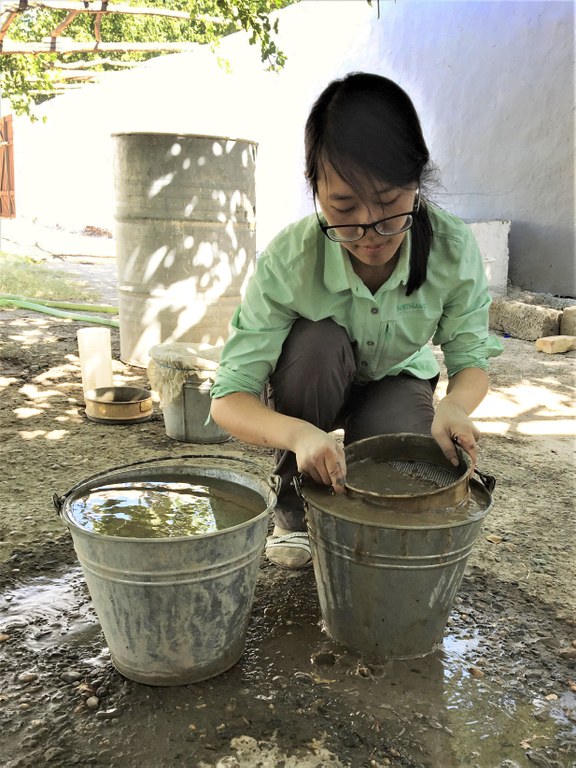 Shujing Wang does wet sieving in connection with fieldwork at the archaeological site of Bukhara in Uzbekistan.
Shujing Wang received her Bachelor of History and Bachelor of Philosophy from Peking University, China. During her time at ISAW, Shujing received several fellowships and grants, including the NYU Abu 
Dhabi Global Dissertation Writing Fellowship (2019-20), the NYU Provost's Global Research Initiatives Fellowship in Washington, DC (spring 2020), and a research grant from the American Philosophical Society's Lewis and Clark Fund for Exploration and Field Research (2019).
Shujing's ISAW doctoral dissertation is entitled "Pastoralists at the Crossroads: Late Iron Age Kurgan Burials in the Periphery of the Bukhara Oasis." According to her advisor Prof. Sören Stark, "Shujing's thesis represents a systematic reevaluation of an important corpus of ca. 200 excavated burials dating to the centuries around the turn of our era from borders of the Bukhara oasis in present-day Uzbekistan. This may sound like a marginal topic with only regional ramifications, but in fact its scope is decidedly transregional and transcultural. On the one hand, the region of Bukhara was a crucially important and vibrant node at the so-called 'Silk Roads,' located at the crossroads of trade routes between China and Iran as well as Eastern Europe and Northern India; on the other hand, this topic is connected to a phenomenon of central importance in the study of Central Asia's past – namely the complex (economic, socio-political, and cultural) interplay of a variety of sedentary and nomadic subsistence strategies and ways of life as one of the most important characteristics of pre-modern societies across Central Asia (at least since the Early Bronze Age)."
During the 2020-21 academic year, Shujing will be an adjunct postdoctoral fellow of Global Asia at NYU Shanghai. In this role, she will work on research and publications and will collaborate with NYU faculty on curriculum development.