ISAW Doctoral Student Shujing Wang Receives APS Grant
This article by Marc LeBlanc first appeared in ISAW Newsletter 24, Spring 2019.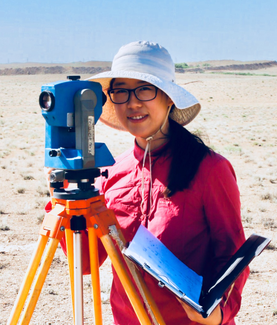 ISAW doctoral student Shujing Wang has received a generous grant from the American Philosophical Society's Lewis and Clark Fund for Exploration and Field Research to support her archaeological fieldwork project, entitled "Power Construction and Exchange Networks in the Borderlands: A Unique Late Iron Age Elite Burial Assemblage in the Periphery of the Bukhara Oasis (Uzbekistan)".  The project, which is connected with Shujing's doctoral dissertation at ISAW, investigates power display and exchange networks of pastoral elites in Central Asia by means of systematic excavation and cutting-edge scientific analyses of archaeological finds from a unique Late Iron Age funeral assemblage in the border zone of Bukhara (Uzbekistan). The assemblage consists of a large kurgan with 48 small tumuli arranged in two wings flanking the large kurgan. Shujing's recent work at the site in 2018 uncovered a satellite burial of a young male, who was styled as a warrior with an arrowhead and an exquisite bone buckle for a belt, in the western wing of small kurgans. The goal of the 2019 season is to excavate the large kurgan at the center of this burial group.