Community News
This article first appeared in ISAW Newsletter 21 (Spring 2018).
Appointment of Antonis Kotsonas
Alexander Jones
Leon Levy Director and Professor of the History of the Exact Sciences in Antiquity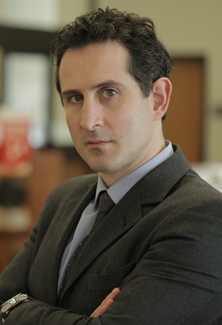 I am very pleased to announce that Antonis Kotsonas has accepted the position of Assistant Professor of Mediterranean History and Archaeology at ISAW, beginning in September 2018. Prior to his appointment at ISAW, Antonis was on the faculty of the Department of Classics at the University of Cincinnati. He specializes in Early Iron Age Greece and the Mediterranean and has broader research interests extending from the Late Bronze Age to the Roman period.
Before taking up his position at the University of Cincinnati, he worked in British, Greek, and Dutch universities. He has also served as Curator of Greek Archaeology at the Allard Pierson Museum, Amsterdam. Antonis' teaching and research has focused on material culture, socio-cultural and economic history, and the history of Greek archaeology. He has active research projects in Crete and Macedonia, and his research takes him from Italy to Cyprus. During fall 2018, Antonis will teach an ISAW seminar, entitled "Colonization in the Ancient Mediterranean and the Black Sea." This seminar will focus on the social, economic, political and cultural processes that shaped the expansion of the Phoenicians, Greeks, Etruscans, and Romans (in the Republican period) in the context of broader current discussions of mobility and Mediterraneanization, network analyses, and cross-cultural discourses on colonialism in the ancient and the modern world. During spring 2019, he will teach an ISAW seminar, entitled "Greek and Mediterranean Ceramics: Material Culture and Historical Interpretation."
Appointment of Fanny Mezard, Library Intern
David M. Ratzan
Head Librarian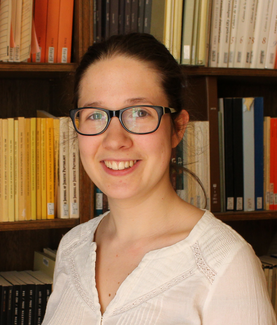 This term we welcomed Fanny Mézard from the École des chartes (Paris, France) to the ISAW Library. Fanny, who is finishing her MA in Technologies Numériques Appliquées à l'Histoire (Digital Technologies for History), has come to ISAW in order to study—and help to strengthen—our already successful digital publishing program.
Fanny's degree program at the École des chartes, which is the premier training ground for France's top archivists, combines traditional library science (e.g., the organization and description of archives, print collections, etc.) with coursework in digital approaches to humanities and archival research, teaching, and preservation. Fanny chose to write her MA thesis on trends in scholarly communication, and one of the requirements of her thesis is that she contribute to an existing digital project. In other words, she needs to submit not only an academic research paper, but also a portfolio of technical work. Fortunately for us, Fanny decided to come to ISAW to work with Patrick Burns and Sebastian Heath on finding ways to improve the presentation, discoverability, access to, and reuse of the scholarship and data in ISAW digital publications, such as ISAW Papers.
Fanny's internship was organized under the aegis of the strategic accord that NYU President Hamilton signed in December 2016 with Université PSL (Paris Sciences et Lettres), a new research university which integrated some of France's most prestigious institutions, like the École des chartes, into one federated academic research organization. This is first internship of any sort to be arranged between the two universities under this accord, which to date has largely been used to facilitate intellectual exchange via conferences and doctoral research. For us, this internship is tremendously exciting. It not only helps us to establish rich lines of communication with the wide array of research institutions represented in Université PSL, but it also enables us to enrich and expand the ISAW research portfolio, particularly in the realm of the digital humanities and scholarly communication. We look forward to hosting other interns from Université PSL in the near future and hope to use this program as a model for other types of student exchanges in the ISAW Library. In the meantime, we invite you to follow Fanny's progress—and all other developments in the ISAW Library—via the ISAW Library Blog.