Appetite for the Past
This article first appeared in ISAW Newsletter 20 (Winter 2018).
Conference organized by Yitzchak Jaffe (ISAW Visiting Assistant Professor) and Kelila Jaffe (NYU Food Studies)
April 30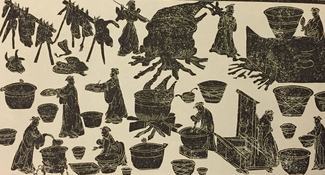 Kitchen Scene from Dahuting 打虎亭 Tomb, Eastern Han Dynasty (25-220 CE) This endeavor will bring scholars of the ancient world and food specialists together to create and serve the fruits of their collaborative efforts to the NYU community. Teams composed of chefs and scholars are cooperating on research projects focusing on food to study and create a consumable final product. A tasting symposium requiring separate registration will take place on May 1st at the NYU Department of Nutrition and Food Studies.
The workshop is the result of the combined efforts of ISAW, the NYU Department of Anthropology, and the NYU Department of Nutrition and Food Studies, with additional sponsorship from the NYU Center for Ancient Studies.