Community News
This article first appeared in ISAW Newsletter 20 (Winter 2018).
Appointment of Clare Fitzgerald, Associate Director for Exhibitions and Gallery Curator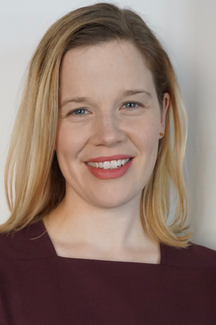 Alexander Jones, Leon Levy Director and Professor of History of the Exact Sciences in Antiquity
I am delighted to announce the appointment of Clare Fitzgerald as Associate Director for Exhibitions and Gallery Curator at the Institute for the Study of the Ancient World, effective March 12, 2018. Dr. Fitzgerald will lead ISAW's acclaimed program of exhibitions exploring themes related to ISAW's mission to foster study and understanding of the ancient world through innovative, connective, and interdisciplinary approaches.Clare Fitzgerald holds a PhD in Art History from Emory University (Atlanta), where she has been Senior Manager of Educational Programs at the Michael C. Carlos Museum. Her academic background is in Egyptology, with a particular research interest in coffins and tombs. She has held a number of fellowships, including at the American Research Center in Egypt and the Metropolitan Museum of Art. She has been a Consulting Curator and Guest Curator at the Munson-Williams-Proctor Art Institute (Utica, NY),and Guest Curator at the Newark Museum, where she oversaw the reinstallation of the museum's Ancient Mediterranean collection, which opened in December.
ISAW Students Receive NYU Global Research Initiatives Fellowships
Marc LeBlanc, Assistant Director of Academic Affairs
ISAW students Irene Soto, Sam Mirelman, Maria Americo, and Fan Zhang are all recent recipients of NYU Global Research Initiatives (GRI) fellowships, which form part of an NYU provostial initiative to support research and academic exchange at  NYU Research Institute sites outside of New York, in locations such as Athens, Berlin, Florence, London, Prague, Shanghai, and Washington, DC, and Tel Aviv.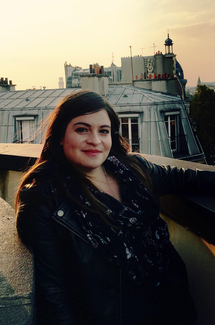 During the 2016-2017 academic year, Irene Soto was the recipient of two NYU GRI fellowships to support her dissertation research and writing. Irene spent three months during fall 2016 working on her doctoral dissertation, entitled "The Economic Integration of a Late Roman Province: Egypt from Diocletian to Anastasius," as a GRI fellow at NYU Paris, which is located in the heart of the Latin Quarter. During her time in Paris, Irene had the opportunity to conduct research in the libraries of the Sorbonne, the Bibliothèque nationale de France, which houses the Cabinet de Médailles, and the Collège de France. After her GRI fellowship in Paris formally ended, Irene was able to remain in residence at NYU Paris during spring 2017 and take a class on multilingualism in Egypt with Prof. Jean-Luc Fournet at the Collège de France. During summer 2017, Irene participated in a six-week dissertation writing workshop as a GRI fellow in London. The fellowship provided housing in historic Bloomsbury and office space at NYU London, which Irene describes as "a majestic town house located next to the British Museum, as well as a 5-minute walk from the Institute of Classical Studies library." Being in London allowed Irene to meet with one of her dissertation advisors at Oxford, Prof. Andrew Meadows, through whom she joined Oxford's "Coin Hoards of the Roman Empire" project. According to Irene, the best aspect of her fellowships was "meeting many different people from European institutions and other NYU departments."
Sam Mirelman received an NYU GRI fellowship to support research on his doctoral dissertation, "Text and Performance in the Mesopotamian Liturgical Tradition," in Berlin for three months during spring 2017. During his stay in Berlin, Sam was provided with work space in the NYU Berlin academic center, which is located in a converted former brewery complex, Kulturbrauerei, in the Prenzlauer Berg district, and had the pleasure of meeting various other PhD students and faculty from various disciplines, who were also there in Berlin as recipients of GRI fellowships. Sam's fellowship in Berlin was especially important for his dissertation research because it allowed him to spend an extended period of time working on the cuneiform tablet collections of the Vorderasiatisches Museum, including an important collection of Sumerian (Emesal dialect) lamentations from Babylon, which date to the 2nd and 1st centuries BCE. These tablets, some of which can be joined to tablets in the Metropolitan Museum of Art in New York, are the central focus of Sam's dissertation, which investigates these and related tablets for the unique information that they contain concerning the performance traditions of ancient Babylonia. Sam is especially grateful to the "very helpful staff at the NYU Center, who were always available for advice and support."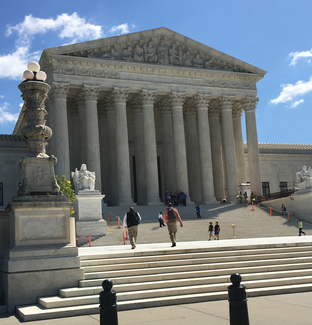 As an NYU GRI fellow, Maria Americo spent three months in Washington, DC during fall 2017. Being in Washington, DC allowed Maria to conduct research in two world-class libraries with particular relevance to her doctoral dissertation topic: the Library of Congress and the George Washington University Library. Maria was provided with office space and a work station at NYU's Constance Milstein and Family Global Academic Center in DC, which she describes as "a wonderfully quiet building, accessible 24 hours a day, 7 days a week," which was particularly conducive to long stretches of uninterrupted and focused dissertation writing. According to Maria, biweekly meetings of NYU researchers at the DC site provide "fellows the opportunity to build a scholarly community while they are away from home to discuss their research, work, and life in DC." During her time in DC, Maria completed a 248-page draft of her doctoral dissertation, entitled "An Analysis of Ninth- Century Reception of Claudius Ptolemy's Astronomy in the Arabic Tradition." Reflecting on her fellowship, Maria notes "the GRI fellowship's generous support gave me the opportunity to research and write, without the distraction of any other obligations, at just the moment I needed it. For that, I will always be grateful."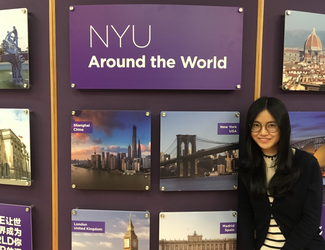 According to Fan Zhang, the recipient of an NYU GRI fellowship in Shanghai during fall 2017, the "GRI fellowship allowed me to spend three productive months working on my dissertation and job applications." During her fellowship at the NYU campus in Shanghai, Fan benefited tremendously from academic exchanges with faculty and fellows of the Center for Global Asia and made significant progress on her doctoral dissertation, entitled "Cultural Encounters: Ethnic Complexity and Material Expression in Fifth-century Pingcheng, China." In addition, Fan was able to attend several job market workshops organized by the NYU Shanghai Humanities group during the fall; these workshops were especially helpful to Fan since she is finishing her dissertation this year and is currently on the academic job market. Outside of campus, Fan had the opportunity to build connections with other universities and institutes in Shanghai, such as Fudan University, where she gave a talk on her dissertation research. Based on the overwhelmingly positive experience that Fan had in Shanghai, she hopes that more ISAW members will join the GRI fellowship program and visit the NYU Shanghai campus in the future.
Visiting Student Update: Xiaoyan Qi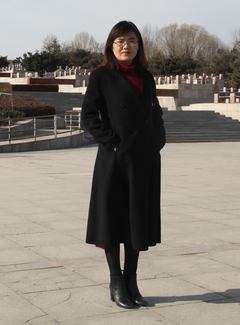 Marc LeBlanc, Assistant Director of Academic Affairs
Xiaoyan Qi, who spent the 2015-16 academic year as a visiting student at ISAW, successfully defended her doctoral dissertation, entitled "The History of Hellenism in Sogdiana," and received her PhD from Nankai University in Tianjin, China, on November 19, 2017. According to Xiaoyan, her time at ISAW provided her with "the opportunity to meet and study under a host of world renowned scholars," including Roger Bagnall, Judith Lerner, Annette Juliano, Sören Stark, and Robert Hoyland, who introduced her to new historiographic and methodological approaches to scholarship. One highlight of Xiaoyan's experience in New York was conducting research in the ISAW Library, where she spent countless hours tracking down new references in the stacks and reading. Another highlight was her participation in the American Numismatic Society's Eric P. Newman Graduate Seminar in Numismatics during summer 2016. Xiaoyan remembers her year at ISAW very fondly and notes that the experience of studying at ISAW" changed my life and opened a world of opportunities that I did not ever imagine possible."
Visiting Research Scholar Update: Wu Xin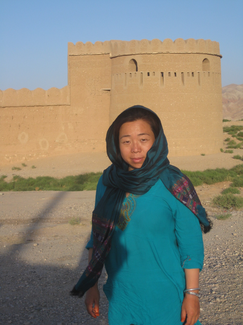 Diane Bennett, Associate Director for Administration
Visiting scholar from one of ISAW's first cohorts, Wu Xin has recently started as Professor of Central Asian and Iranian Studies in the History Department of Fudan University, Shanghai, China. She has also been awarded a three-year Scholar of the Orient grant by Shanghai, which will continue to fund her research. At Fudan, she will be teaching on the Art and Archaeology of the Ancient Near East, Iran and Central Asia and plans to resume her archaeological excavation at Kyzyltepa in Uzbekistan in the Spring of 2018. She has taken a little break from excavating to become the proud mom of twins!