Alumni Spotlight: Mehrnoush Soroush
This article first appeared in ISAW Newsletter 19, Fall 2017.
Marc LeBlanc
Assistant Director for Academic Affairs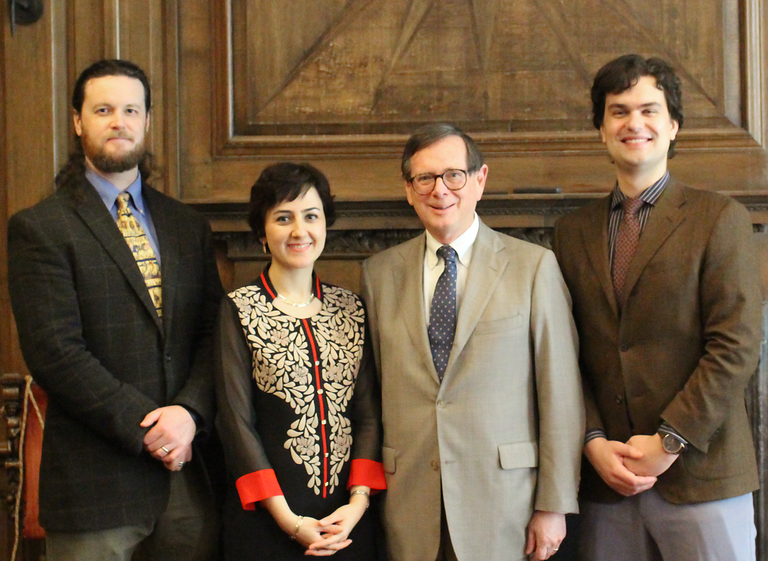 The Graduates of 2016 with Leon Levy Director Emeritus Roger Bagnall. (L to R): Randolph Ford, Mehrnoush Soroush, Roger Bagnall, and Erik Hermans In January 2016, while in the final semester of her dissertation work, ISAW alumna Mehrnoush Soroush '16 began teaching as a Senior Lecturer in the Department of Anthropology at the University of Akron. During her time in Ohio, Mehrnoush developed and taught two courses: one firmly in her direct area of expertise, "The Archaeology of Water," and the other slightly further afield for Mehrnoush, "Egyptology." Teaching students from a variety of backgrounds, including first-generation college students, working students, and adult learners, was a challenging but rewarding experience that was made easier by Mehrnoush's collegial and supportive faculty colleagues at Akron. A particularly exciting and important life event that took place during Mehrnoush's time at the University of Akron was the birth of her son Mahan.
For the 2017-18 academic year, Mehrnoush has accepted a postdoctoral fellowship in the Department of Anthropology at Harvard University, where she will contribute to a project entitled "Data from Erbil Plain Archaeological Survey" (EPAS) and continue to work on her own research and publication projects, which include an examination of the application of remote sensing for studying water history and the large-scale mapping and spatial analysis of qanat landscapes. The initial phase of the project, which Mehrnoush will work on this year, will explore how recent advances in image-recognition through machine-learning can be employed for automated mapping of qanat shafts on CORONA satellite imagery.
Mehrnoush reflects on her time as a doctoral student at ISAW, "The combination of VRS and PhD program was something very special. It provided an incredible opportunity for students to connect to the professional world, practice critical professional skills, and to be constantly exposed to new ideas. Some of the most important opportunities of my graduate studies were made possible through my access to or collaboration with the visiting scholars. I hope that the current and future students tap this resource even more efficiently than I did!"