Libraries
This article first appeared in ISAW Newsletter 18 (Spring 2017).
David M. Ratzan
Head Librarian
The ISAW Library is very pleased to announce the generous donation of the library of Susan L. Beningson, Assistant Curator of Asian Art at the Brooklyn Museum. The Beningson Collection contains over 1,200 volumes on Chinese art and archaeology, including material on the Silk Road, Buddhist sculpture, and archaeology of sites from the Shang through Qing Dynasties. The ISAW Library will retain materials relating to its core research, the Xia through Tang Dynasties, while material on later periods of Chinese history and art will find a home in the Stephen Chan Library at the Institute of Fine Arts or Bobst Library in Washington Square. The entire collection will be searchable in Bobcat, NYU's online library catalog.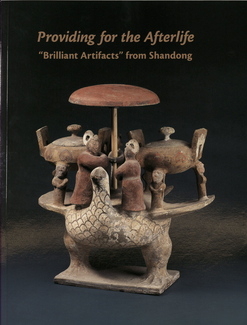 "Providing for the Afterlife: Brilliant Artifacts from Shandong," curated by Susan L. Beningson and Cary Y. Liu for the China Institute Gallery in 2005 In April, the ISAW Library and Digital Programs organized the ISAW Digital Antiquity Research Showcase 2017, our most recent event in the Linked Ancient World Data Initiative New York (LAWDNY) series. The aim of the event was to highlight ISAW's overall approach to data and scholarly collaboration in the twenty-first century, connecting data, scholars, and departments. Seven speakers from the extended ISAW community, including faculty, students, staff, and affiliated scholars, presented new digital work on linked data in bibliography, libraries, numismatics, and archaeology; imaging and modeling techniques for artifacts and exhibitions; and text tagging and analysis in historical languages.
This year we have added significantly to our capacity to forge these connections, both with the addition of a new staff member, Patrick J. Burns, who serves as the ISAW Library Assistant Research Scholar for Special and Digital Projects, and the offering of a new graduate seminar, "Introduction to Digital Humanities for the Ancient World," which introduces participants to basic methods in programming, text, mapping, modeling, and database design. This new course complements ISAW's existing curricular offerings in Digital Humanities (DH), such as Sebastian Heath's advanced seminars in mapping and data visualization, data structures and querying, and computational photography and 3D modeling. In addition, starting next academic year, ISAW's DH courses will be available to be taken as electives for GSAS's newly launched M.S. and Certificate programs in Digital Humanities and Social Sciences.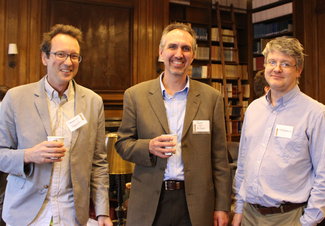 Left to right: Clinical Assistant Professor of Ancient Studies Sebastian Heath, Peter van Alfen, and Andrew Meadows at the 2017 LAWDNY series Our new staff and curricular offerings seeks to help embed digital approaches into the working DNA of ISAW, creating a community that has a critical awareness of the role of machines and data in research, teaching, and communicating about the ancient world. Indeed, one of the aims of the ISAW approach we showcased in April is precisely to foster a digital "second nature," or the habit of thinking beyond the immediate aims of any particular project towards an overarching scholarly culture of data, taking seriously our responsibility as scholars to curate and link the data we create, whether that is in the field, the lab, the classroom, the library, or the exhibition gallery, in a way that is both open and reusable. Please see isaw.nyu.edu/news/isaw-dh-showcase2017 for more information about the ISAW Digital Showcase 2017, the ISAW Library, and ISAW Digital Programs.