The Age of Empires: Comparisons and Interactions between East and West in Antiquity
This article first appeared in ISAW Newsletter 17, Winter 2017.
Symposium, co-organized by ISAW and The Metropolitan Museum of Art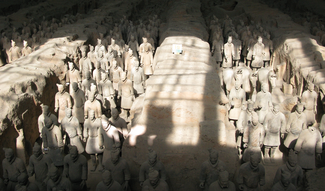 Terracotta warriors at Pit 1, Mausoleum of the First Emperor (d. 210 BCE), Lintong, China Specialists in Greco-Roman and Asian studies will explore the significance of recent archaeological finds from China's First Emperor's mausoleum—the 7,000 strong terracotta warriors and a group of intriguing acrobat figurines—from a global perspective in the first two days. Leading Chinese archaeologists will present up-to-date reports on archaeological finds and research of the Qin and Han periods in the third day.
In the final day of the symposium, established and emerging young scholars will discuss the expansion and outreach of the Han Empire reflected in art and material culture, investigating the royal tombs in China's heartland, nomadic burials in the steppes of northern Asia, and Han lacquerware found in the Crimean Peninsula. Detailed information will be available later at http://isaw.nyu.edu/news. The symposium is co-organized by the Institute for the Study of the Ancient World at New York University and The Metropolitan Museum of Art. It is made possible by The Met's Joseph Hotung Fund and by New York University through its Center for Ancient Studies, Rose-Marie Lewent Conference Fund, Global Institute for Advanced Study, Center for the Humanities, and Shanghai Campus.