Digital Humanities: Pleiades Award
This article first appeared in ISAW Newsletter 17, Winter 2017.
Tom Elliott
Associate Director for Digital Programs and Adjunct Assistant Professor, Fall 2016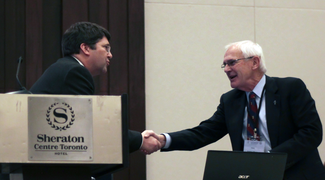 Andrew Moore, President of the AIA, congratulates Elliott during the Awards Ceremony at the 2017 Annual Meeting in Toronto On January 6 in Toronto, Canada, the Archaeological Institute of America awarded its 2017 Award for Outstanding Work in Digital Archaeology to the Pleiades gazetteer of ancient places (https://pleiades.stoa.org), a project headquartered at ISAW since 2008. Tom Elliott, ISAW's Associate Director for Digital Programs, accepted the award on behalf of the Pleiades community. He emphasized in his remarks the essential, collaborative nature of the project, which involves hundreds of individuals and scores of academic projects world-wide. Elliott currently serves as both Co-Managing Editor of Pleiades and Principal Investigator for a three-year, $322,000 grant from the National Endowment for the Humanities for its upgrade and expansion.