Visiting Student Feature
This article first appeared in ISAW Newsletter 17, Winter 2017.
Matthias Stern
PhD Candidate, University of Basel, Switzerland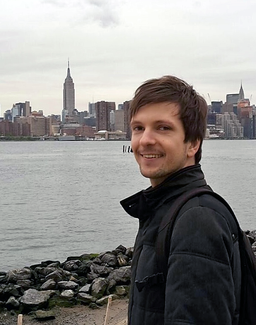 As a PhD student at the University of Basel, Switzerland, I am currently working on my dissertation project, entitled "Fiscalité, Local Politics, and Social Control in Byzantine Egypt. The Case of the Pagarchy," and had the pleasure to be hosted as a visiting graduate student at ISAW for three months from March through May 2016. During my brief but exhilarating time, I participated in courses led by Professors Roger Bagnall, Robert Hoyland, and Sören Stark and met with Roger Bagnall and the community for in-depth sessions on my dissertation. In addition, I had countless 'offstage' discussions about general or particular aspects of the ancient world. The abundance of expertise in all different sorts of fields gathered at ISAW helped me shape my work in detail and open it to various areas of scholarly discourse. Apart from such professional gains, however, I also experienced a most cordial reception into the ISAW community, for which I will be ever grateful.