Libraries
This article first appeared in ISAW Newsletter 16, Fall 2016.
David M. Ratzan
Head Librarian
I know I say this every year, but … this was a great year in the ISAW Library! Indeed, it was a great year not only for our collections, which continued to grow both in print and digitally, but also for our building capacity to support twenty-first century scholarship and teaching in the ancient world.
Our print collection grew 7% last year, and this does not count the recent acquisitions of the libraries of Prof. Aleksandr Leskov, a renowned Russian archaeologist and one of the world's leading authorities on the Scythians and the ancient Eurasian Steppe, or of Susan Beningson, the Assistant Curator of Asian Art at the Brooklyn Museum and a specialist in Chinese art history and the material culture of the Silk Road. Dr. Beningson was one of several scholars and organizations that have recently recognized ISAW's growing importance in ancient studies with generous library donations. In particular, I would like to acknowledge the Deutsche Forschungsgemeinschaft, the main German funding body for humanistic and scientific research, for its donation this past May. For more information about these and all other donations, as well as monthly lists of new titles, please see the ISAW Library website.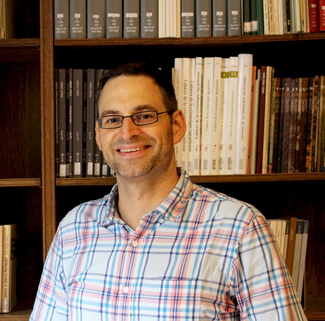 Patrick Burns, Assistant Research Scholar for Digital and Special Projects On the digital side, we have been similarly busy, laying the foundation for what promises to be a very productive year. A central pillar of this foundation was our successful recruitment of Patrick Burns to the ISAW Library team as our first Assistant Research Scholar for Digital and Special Projects. This two-year position will help the ISAW Library to fulfill a key component of its broader mission, namely to provide access to and support for new forms of digital scholarship, scholarly communication, and pedagogy in ancient studies. Patrick comes to ISAW from Fordham University, where he recently earned his Ph.D. in Classics and had been deeply involved with the emerging landscape of digital humanities and ancient studies. Patrick's current academic research deals with defining genre in Latin literature through computational approaches to diction and developing natural language processing tools for historical languages in the Classical Language Toolkit (CLTK), having participated this past summer as a CLTK fellow in Google's Summer of Code. Patrick will work both to advance our current initiatives, including the Ancient World Digital Library and ISAW's born-digital publications, and to help develop new digital projects and programs with colleagues at other institutions and the Society for Classical Studies. He will also collaborate with ISAW faculty, researchers, and students to help them incorporate digital resources into their research and teaching.
Finally, I am excited to report that the ISAW Library is becoming more actively engaged in the research and teaching missions of ISAW. This year library staff helped organize and will teach in a new ISAW graduate course, "Introduction to Digital Humanities for the Ancient World." In the spring I will be teaching an undergraduate course on race and ethnicity in the Ancient Mediterranean, and this year you will likely see all of the library staff members at one time or another in the "Recent Publications" section of the Newsletters.
If you would like updates on our activities between Newsletters—from monthly reports of new acquisitions to news about our digital projects and the staff's scholarly work—please follow the ISAW Library Blog or the ISAW Library Facebook and Twitter accounts (@ISAWLib).