Digital Programs
This article first appeared in ISAW Newsletter 16, Fall 2016.
Tom Elliott
Associate Director for Digital Programs
Work continued apace under the auspices of my grant from the National Endowment for the Humanities to upgrade and expand the Pleiades gazetteer of ancient places. Work recently completed by our subcontractor, Jazkarta Inc., includes enhancements to the user interface and dynamic map components; upgrades that make it easier to import and cite locations in OpenStreetMap; and modifications that allow users to record and document historical relationships between places (for example, administrative connections between cities and provinces). A second phase of the project has just begun: Ryan Baumann from Duke University's Collaboratory for Classics Computing is working on software that will enable us to collate Pleiades content with place information found in other gazetteers (like the Getty Research Institute's Thesaurus of Geographic Names and the German Archaeological Institute's iDAI Gazetteer), thereby providing users of all participating systems with richer and more complete geographic information for the ancient world.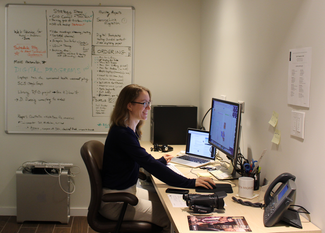 Kristen Soule in the new IT office on ISAW's sixth floor. Kristen Soule, IT Support Administrator, and I also oversaw Jazkarta's work on a series of upgrades to the ISAW website. Beyond routine security and performance enhancements, we implemented a number of behind-the-scenes improvements that make it easier for ISAW faculty and staff to create, edit, and publish the content you see on the website. This fall we will be rolling out a more efficient and engaging experience for the on-line components of ISAW exhibitions, as well as the ability to add dynamic maps to the website using data drawn from Pleiades and other sources.
We are also integrating both Pleiades and the ISAW website with the open-source Zotero citation management system, which is operated by the Roy Rosenzweig Center for History and New Media at George Mason University. This is the same bibliographic management tool that Patrick Burns (Assistant Research Scholar, Digital and Special Projects) is using to manage the bibliographic information that flows into the "Library New Titles" section on the ISAW website. The integration of Zotero with Pleiades and the ISAW website will make it easy not only for our content creators to pull in bibliographic citations from Zotero, but also for external users of Zotero to capture bibliographic information about individual sections of our digital publications for later citation elsewhere. The twin goals are to make the discovery and citation of information resources -- both in print and on-line -- fast, easy, and accurate across all ISAW publications, research projects, and pedagogical efforts.
I traveled extensively, doing outreach and collaboration for ISAW's digital programs this summer. I delivered keynote addresses for the "Mapping the Past" conference at the University of North Carolina and the "Linking the Big Ancient Mediterranean" conference at Iowa State University. I also participated in workshops and project meetings for the Digital Latin Library (Duke University), the Open Ottoman platform (Institute for Advanced Study, Princeton), the Periodo temporal gazetteer (University of Texas), and an initiative to improve data collection and use for Cultural Property Protection during NATO planning and operations (held at the NYU School of Law).
This fall I am team-teaching (with ISAW's Sebastian Heath and David Ratzan) a graduate seminar at ISAW entitled "Introduction to Digital Humanities for the Ancient World". Participating students and visiting scholars will gain hands-on experience with digital text encoding, computational analysis, 3D modeling, digital mapping, content management systems, and current issues in the discipline.
Summer 2016 saw renovations on the 6th floor of ISAW to accommodate staff and faculty changes. This process gave us the opportunity-- with generous support from the Leon Levy Foundation -- to renovate an office and storage space for Kristen's use. She moved into the space in August and now for the first time has purpose-built space for hardware troubleshooting, one-on-one software training, and equipment storage.