Incoming Graduate Students
This article first appeared in ISAW Newsletter 16, Fall 2016.
Narges Bayani
I received a B.A. in Near Eastern Archaeology from Wilfrid Laurier University in 2008 and completed my M.A. in Near Eastern Languages and Civilizations at the University of Pennsylvania in 2012, focusing on the interactions of the Iranian Plateau with Central Asia during the Bronze Age. My M.A. thesis explored the dynamics of cultural interaction at the site of Tepe Hissar in NE Iran and also solidified my interest in studying the frontier zones on the Iranian Plateau. I intend to undertake an in-depth study of frontiers and borderlands in the Ancient World from anthropological and archaeological perspectives and to explore the cross-regional encounters that shape and impact frontier communities. I am also interested in applying curatorial practices as an alternative and more public outlet for academic research and an integral link between the world of academic archaeology and the public perception of the ancient world. I also hold an Advanced Graduate Certificate in Museum Studies from New York University.

Kyle Brunner
I received my B.A. in History and Classical Studies with a minor in Archaeology in 2014 at the University of North Carolina at Greensboro. While at UNCG, I honed my interest for the Early Islamic period of the Middle East. I have worked on a number of archaeological excavations in Jordan with the University of Copenhagen investigating Islamic Jarash and 'Aqaba. I have also excavated in the Moquegua Valley, Peru. After graduation, I became a member of the Monastic Social and Spatial Networks Project, through which I have been conducting social network analysis and GIS research on Syriac-speaking monastic communities of northern Syria and Iraq during the Byzantine and Early Islamic period. During my time at ISAW, I hope to expand my monastic research to incorporate rural estates across the northeastern Islamic frontier through both archaeological and geospatial methods.

Kate Justement
I received a B.A. in History and Anthropology with a minor in Classics in 2015 at Auburn University. During my time at Auburn and after graduation, I worked as an intern at the Smithsonian's National Portrait Gallery and Archives of American Art as well as at the Metropolitan Museum of Art in the Islamic Art Department. While at the Met, my work with the Ernst Herzfeld papers and my research for my senior thesis on American archaeologist, William Arthur Shelton, influenced my interests in the art and archeology of the Near East and Anatolia during the first and second millennia BCE. At ISAW, I am eager to investigate the multitude of widespread, influential interactions and encounters between the Near East and Anatolia, and how they precipitated change and the exchange of ideas and cultural trends, especially in visual and material culture. I will also further pursue my interests in curatorial work while at ISAW and will gain more hands-on experience with collections through both fieldwork and exhibition work.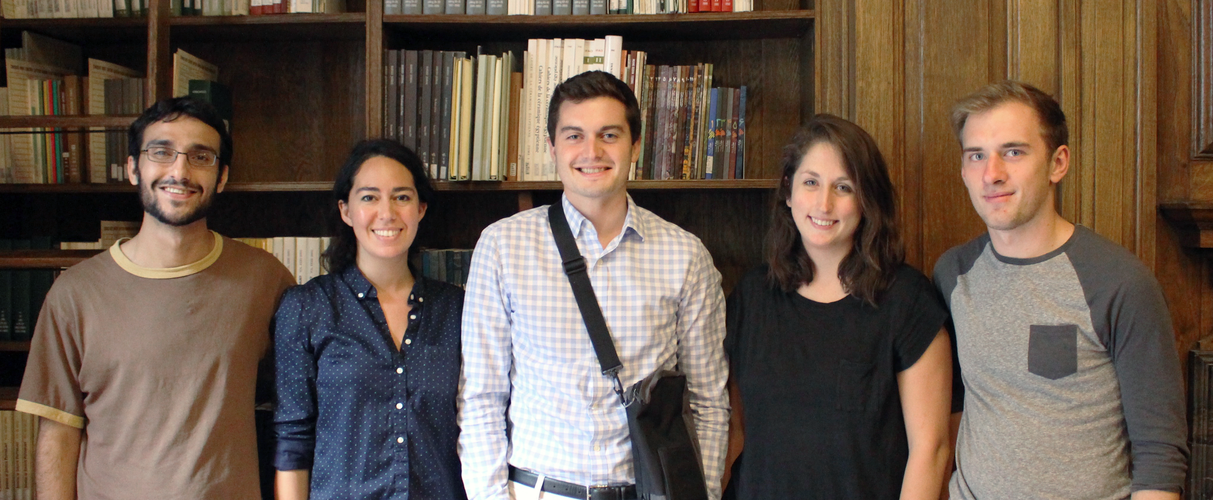 Incoming ISAW Graduate Students. (L to R): Alireza Khounani, Narges Bayani, Nathan Lovejoy, Kate Justement, Kyle Brunner
Alireza Khounani
I earned my B.A. in Archaeology from Bu-Ali Sina University in Iran. While there, I focused on combining historical evidence with material culture to study the socio-political formation of the Parthian Empire through the study of its local vassals. I participated in several archaeological fieldwork projects in Iran before receiving a scholarship in 2014 to study for my master's degree at Vrije Universiteit Amsterdam. At VU, with an interest in interdisciplinary studies, I decided to pursue Landscape Archaeology in order to focus on the ways in which people in the past constructed and used the environment around them. In addition to learning about theoretical approaches in Landscape Studies, I took courses in "Cultural Hybridity" and "Romanization" to be able to write a master's thesis to investigate the material culture of the city of Hatra, which was located on the Romano-Parthian border in Northern Mesopotamia. In 2015, I was a member of an archaeological survey on the Hellenistic and indigenous sites located in the region of Puliga in southwestern Italy. At ISAW, I intend to continue my previous research and expand my focus to Central Asia by applying interdisciplinary methods and digital humanities to better investigate the antique sites in the region.
Nathan Lovejoy
I graduated magna cum laude from Brown University in 2016 with a B.A. in Archaeology and the Ancient World (with honors) and Classics. I wrote my honors thesis on the reception of Anatolian tumuli from the Archaic Period to the present. Using archaeological, literary/historical, and more recent ethnographic evidence, I created a typology of engagements with the monumental burial mounds that punctuate the landscape of modern Turkey, and attempted to explain the motivations behind such interactions and the memories associated with the tumuli. During my time at Brown University, I participated in the Brown University Labraunda Project (BULP) as a trench supervisor for two field seasons, where we excavated a monumental fountain house (referred to as the Hypostyle Building in publications) outside the temenos of the sanctuary of Zeus Labraundos. Our goals were to explain the phasing of the building, how it interacted with the other buildings of the sanctuary, and to explain water management at the site. At ISAW, I intend to continue acquiring and developing ancient language skills from the cultures of the Eastern Mediterranean and Near East in order to access primary sources without external interpretations. With a combination of philological and archaeological skills, I aim to continue my research into the reuse of ancient monuments and architectural structures, the reception of stories and artifacts among various cultures as they develop over time, and how memories are created and transmitted through the cultures of the Eastern Mediterranean and the Near East, with particular attention to the Archaic Period.