Roger Bagnall's Retirement
This article first appeared in ISAW Newsletter 15, Spring 2016.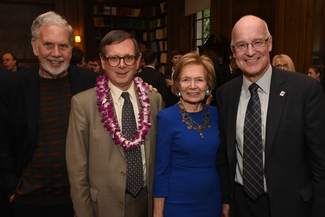 Left to Right: NYU President Emeritus John Sexton, ISAW Leon Levy Director Roger Bagnall, ISAW Founder Shelby White, and NYU President Andrew Hamilton. ©NYU Photo Bureau: (Pollard) As has been announced, Roger Bagnall, Leon Levy (founding) Director of the Institute for the Study of the Ancient World, is stepping down and returning to the faculty and full-time scholarship in September 2016.
Founder Shelby White remarks, "In 2006, ISAW was an idea, a dream, that my late husband Leon Levy and I had, to create an Institute to change the way the ancient world was studied and foster scholarship across academic disciplines and geographic boundaries. Roger Bagnall has fulfilled those hopes. Congratulations on a wonderful nine years."
ISAW PhD Candidate Irene Soto says: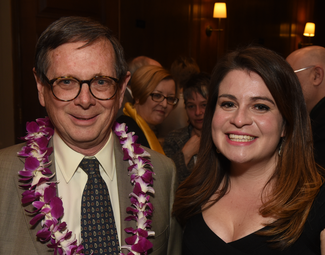 Leon Levy Director Roger Bagnall and ISAW PhD Candidate Irene Soto. ©NYU Photo Bureau: (Pollard). I first started collaborating with Roger right at the beginning of his directorship at ISAW. During that summer of 2009, I worked as his research assistant using the growing library of the Institute. The sixth floor had not been remodeled to house the exhibition offices, the Oak library, while still beautiful, was devoid of books and substantial seating, and the population of ISAW was about a quarter of the seventy people it now houses.
Under nine years of Roger's leadership, ISAW has become the center of interdisciplinary research for the ancient world that it was set out to be. He has excelled as Director in hiring faculty, expanding the visiting research scholar program, advising students, teaching, and serving in numerous committees because of his innate sense that our field is one of collaboration, and as such, it relies on fostering a healthy academic community.
Under every decision, whether it is tea times and lunches, or hosting lectures or selecting Visiting Scholars, Roger's perennial vision was to nurture an academically diverse community under one roof. Through ISAW's numerous lectures, workshops, and even ongoing quotidian activities, he laid down the blueprints to build connections with the rest of the scholarly world.
As a student at the Institute I have benefitted socially and intellectually from daily interactions with visiting scholars, which often lead to larger collaborative projects, working with the exhibitions department in shows, and even getting involved with archaeological projects that expand my usual academic horizons. The environment at ISAW has been one of opportunities, and it is thanks to Roger's vision for the Institute and his hard work that ISAW has become the dynamic center for advanced study, research, and graduate education that it is. His legacy of openness and collaboration will undoubtedly continue and we at ISAW are grateful for his years of care and dedication."
©NYU Photo Bureau: (Pollard).