Scientific Traditions in the Ancient Mediterranean and the Near East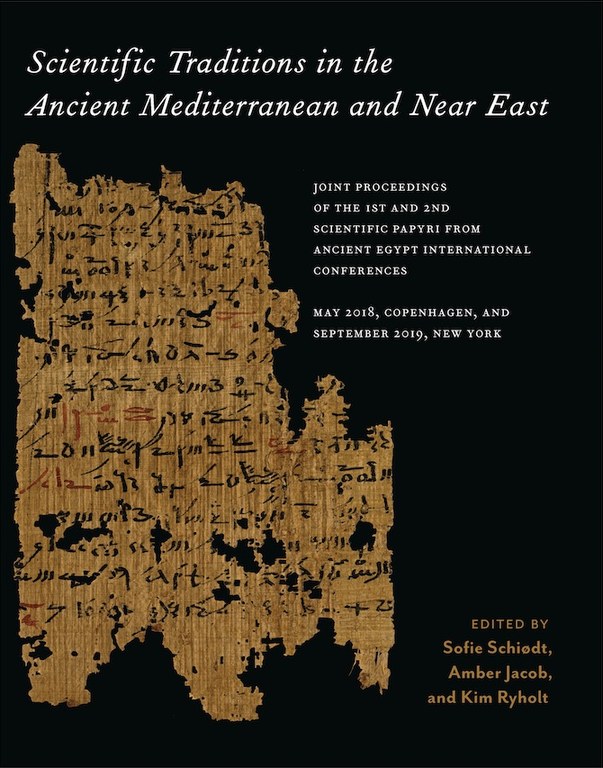 Front cover of Scientific Traditions in the Ancient Mediterranean and Near East (9781479823130) edited by Sofie Schiødt, Amber Jacob, and Kim Ryholt
edited by:

Sofie Schiødt, Amber Jacob, Kim Ryholt

contributors:

Claire Bubb, Ida Christensen, Anne Grons, Friedhelm Hoffmann, Amber Jacob, Alexander Jones, Robert Kade, Francesca Minen, Luigi Prada, Joachim F. Quack, Nicola Reggiani, Kim Ryholt, Sofie Schiødt, Lingxin Zhang

August 29, 2023

ISBN:

9781479823130, 9781479823154
Scientific Traditions in the Ancient Mediterranean and Near East collects the select proceedings of papers delivered at two conferences held in Copenhagen and New York in 2018 and 2019, respectively, both organized by an international collaboration called Scientific Papyri from Ancient Egypt (SciPap), established in 2017 on the initiative of Kim Ryholt, director of the Papyrus Carlsberg Collection.
The contributions presented in Scientific Traditions in the Ancient Mediterranean and Near East engage with topics in medicine, astronomy, astrology, and other forms of divination, as seen from a variety of textual sources in several languages and scripts from Egypt and the Near East spanning more than a millennium, including some texts that are edited and discussed here for the first time. These include new treatises on divination, including dream interpretation, personal astrology, and Sothis divination, as well as treatises on medicine, including dermatology, gynecology, and apotropaic incantations. The contributors, which include both established and early-career scholars, were tasked with approaching their texts not only as specialists, but also from a cross-cultural perspective, and the resulting body of work reveals new and exciting evidence for the transfer of scientific knowledge across cultural borders in the ancient Mediterranean and Near East.
This book will be of interest to specialists in the history of medicine, science, divination, and magic, as well as to papyrologists, Egyptologists, and Assyriologists.
Table of contents
List of Figures iv
List of Tables iv
List of Abbreviations vi
Notes on Editorial Procedure viii
Introduction (S. Schiødt, A. Jacob, and K. Ryholt) 1
Part 1: Medicine and Magic
1. A Medical Interpretation of Egyptian Magical Texts (F. Hoffmann) 7
2. Contending with Swellings in Ancient Egypt: Notions of Skin Disease and Disease Causation in Papyrus Louvre-Carlsberg (S. Schiødt) 23
3. Skin Deep: Cutaneous Treatment and Taboo in Graeco-Roman Egypt (A. Jacob) 57
4. A Miscellany of Mainly Medical Content: P.Brooklyn 47.218.47 (J. F. Quack) 101
5. Fifty Shades of gyl: Deciphering the "Other" in Demotic Scientiic Tradition (R. Kade) 117
6. Medical Literary and Documentary Culture in the Graeco-Roman Fayum (N. Reggiani) 157
7. The Movement of Fluids in Hippocratic Places in Man and the Egyptian Vessel System (C. Bubb) 183
8. An Overview on Eye Diseases in Coptic Medical Prescriptions (A. Grons) 203
9. Signs of Sickness and Health in Ancient Mesopotamia: Some Notes on Comparing Terrestrial Omens and Medical Texts (F. Minen) 219
Part 2: Astronomy, Astrology, and Other Forms of Divination
10. The Study of Astronomical Papyri from Neugebauer to Today (A. Jones) 253
11. Sothis Divination in Ancient Egypt (K. Ryholt) 323
12. An Unpublished Astrological Manual from the Tebtunis Temple Library: A Preliminary Report (I. Adsbøl Christensen) 367
13. To Agree or Not to Agree? One Astrological Problem in the Women's Astrological Manuals (PSI inv. D35 + P.Carlsberg 684 and P.Carlsberg 100) (L. Zhang) 377
14. Sex and Gender Balance in Oneirocritic Science: If Ancient Egyptian Women Could nk, then Men Were Allowed to Have Erotic Dreams, Too (With the Edition of P.Saqqara EES H5-DP 351 recto) (L. Prada) 393
Appendices 417
General Index 423
Index Locorum 435
About the authors
Sofie Schiødt is an Egyptologist specializing in pharaonic medicine, magic, and mummification. She is a postdoctoral researcher at Eberhard Karls Universität Tübingen and co-director of the international research project Scientific Papyri from Ancient Egypt in Cross-Cultural Perspective (SciPap) at the University of Copenhagen. She is currently preparing the text edition of the second-longest medical text preserved from ancient Egypt, P.Louvre-Carlsberg.
Amber Jacob is a PhD Candidate at the Institute for the Study of the Ancient World at New York University and co-director of the SciPap project. Her work centers on Egyptian medical practice in Graeco-Roman Egypt and its cross-cultural implications. Her dissertation presents the editio princeps of an unpublished corpus of Demotic medical texts from Tebtunis.
Kim Ryholt is Professor of Egyptology at the University of Copenhagen, director of the Papyrus Carlsberg Collection, and founder and former director of the SciPap project. He specializes in ancient Egyptian history, literature, and historiography.