Upcoming Online Teacher Training Workshops at the China Institute by ISAW Research Associate Annette Juliano
On October 5, 2022, China Institute is launching "Art, Ritual, and Religion: Bronze Vessels to Buddha Images," a professional development online series designed for K-12 educators of all grades teaching Chinese culture, history, art and language. With lectures and discussions led by ISAW Research Associate Annette Juliano and experienced teaching experts, this six-session series offers teachers of social studies, art, and Chinese language and culture an opportunity to develop an in-depth understanding of Chinese civilization during its founding period, provides teaching resources and make connections to K-12 classroom teaching activities. Two CTLE hours for each session are available for New York State teachers upon completion. Participants have the option to join the entire series or individual sessions.  
Annette Juliano holds a Ph.D. in Early Chinese Art from NYU's Institute of Fine Arts.  Her research and publications have focused on Buddhist and non-Buddhist arts in Northern China and Xinjiang during the four hundred turbulent years between China's two famous empires, the Han (206 BCE–220 CE) and the Tang (618–906). In addition to numerous books such as Teng-hsien: An Important Six Dynasties Tomb, and research and reviews published in scholarly journals, Professor Juliano has been engaged in the development of exhibitions and programming that explore questions through the construction of contextual narratives, and she was previously co-curator of Art in the Time of Chaos, Masterworks from Six Dynasties China 3rd – 6th Centuries at the China Institute Galleries. 
Founded in 1926 by renowned scholars and educators, including Dr. John Dewey at Teachers College, Columbia University, China Institute is the oldest non-profit organization in America solely dedicated to advance a deeper understanding of China. Chartered by the Board of Regents of the University of the State of New York as a school of continuing education since 1944, China Institute has a long history working with K-12 schools and educators through its courses, workshops, study tours and the creation of curriculum materials. Its award-winning curriculum guide, From Silk to Oil, remains to be one of the most popular teaching resources for K-12 educators teaching about China. Full scholarship is available for K-12 teachers of NYS public schools and China Institute's educational partners upon application.
For more information on this PD series, please contact Yongqiang Lin ylin@chinainstitute.org.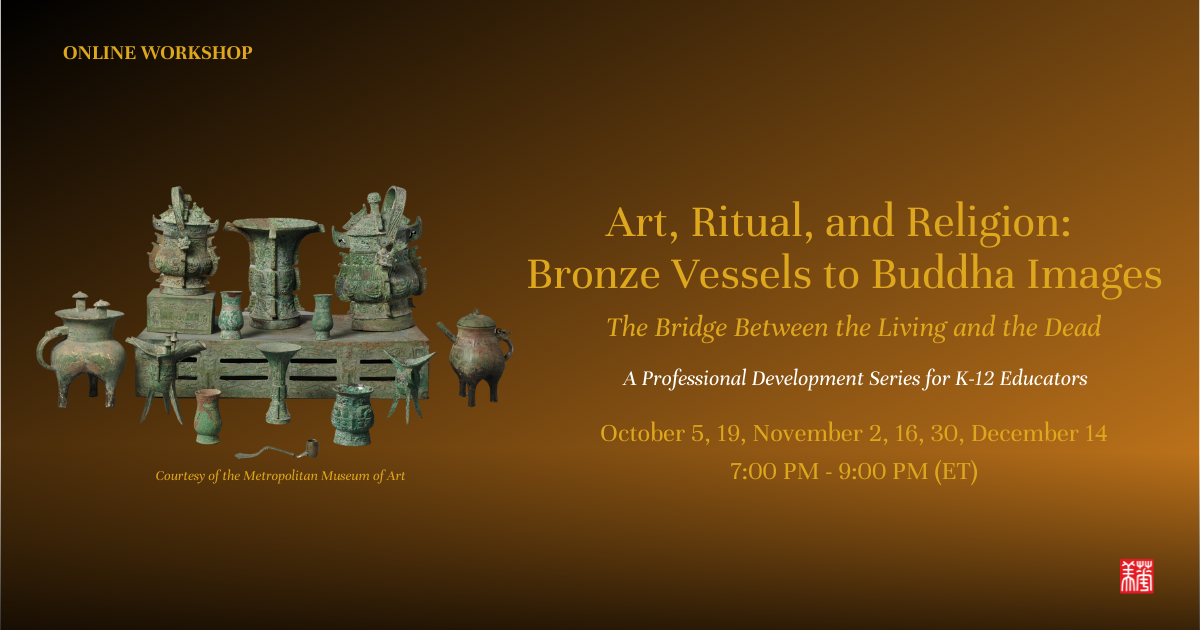 ISAW Research Associate Annette Juliano will lead a series of lectures and discussions through the China Institute beginning October 5, 2022.