Ancient Puzzles
How do you build a wall made of decorated mud bricks?

These watercolors* of reconstructed walls from Nebuchadnezzar II's Southern Palace by Walter Andrae reveal the surprisingly complex system of labeling decorated bricks. Hidden from view in the final construction, the tops of many bricks at Babylon contain symbols that indicate the position of a particular brick in a larger decorative scheme. The symbol in the middle indicates the row of bricks, white marks on the side help sequence bricks within the row. Because the creation of glazed brick walls required a separate firing prior to the final assembly, these "fitters' marks" were crucial to the final construction.
React to this post on Facebook, Instagram, or Twitter.
#isawishtarslion #isawnyu #isolationcreation #ancientpuzzles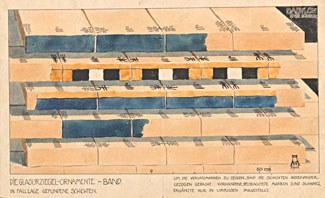 Like Legos for archaeologists and conservators! @lego how did you put together your Ishtar Gate reconstruction??

Are you working on any puzzling activities in isolation? Tag us to share some inspiration #ancientpuzzles

Feel free to ask any question in the comments and we will check in with our curators and get back to you!!
Image 1: Walter Andrae
Partial reconstruction of the throne room façade from Nebuchadnezzar II's Southern Palace showing fitters' marks on bricks
1901 CE, Watercolor on paper
H. 31.6 cm; W. 70.6 cm
Deutsche Orient-Gesellschaft, Berlin: ArDOG V.28.18
© Deutsche Orient-Gesellschaft, Archiv; Photo: Olaf M. Teßmer
Image 2: Walter Andrae
Partial reconstruction of a wall from Nebuchadnezzar II's Southern Palace showing fitters' marks on bricks, based on collapsed remains found in situ
1901 CE, Watercolor on paper
H. 19 cm; W. 30.5 cm
Deutsche Orient-Gesellschaft, Berlin: ArDOG V.28.17
© Deutsche Orient-Gesellschaft, Archiv; Photo: Olaf M. Teßmer