Report from the Field: The Umma Survey Project
The first season of The Umma project was carried out in March 2018. The project aims to conduct a comprehensive archaeological reconnaissance of an area of approx. 2000km2 (45x45km) located in the vicinity of the modern town Al-Rifai in South Iraq. This area is of great historical importance as it once constituted the ancient province of Umma of the kingdom of the Third Dynasty of Ur (aka Ur III), which unified Southern Mesopotamia under one rule at the end of the 3rd Millennium BC. This kingdom is known for having produced an unparalleled historical record of over a hundred thousand cuneiform tablets on the day to day operations of an early state society. The largest and most comprehensive corpus of Ur III tablets, the majority of which document economic transactions, comes from the province of Umma. While the Ur III documents have the potential to provide an extraordinarily detailed insight into the organization of this early state economy, they have been underutilized due to a poor understanding of the geographic context in which these economic transactions took place. We lack the archaeological data that would allow us to map the location of production centers, the network of transportation routes, and the movement of goods and services.
One of the surveyed sites (heavily looted) near Al-Rifai, with an abandoned village in the background.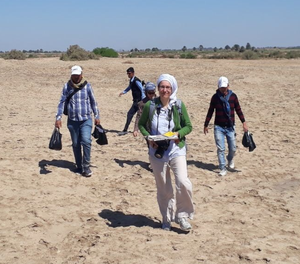 The Umma Survey Project addresses this shortcoming by integrating newly acquired archaeological data (settlement data and landscape features, such as canals and watercourses, etc.), remote sensing, and geographical information recorded in ancient documents to reconstruct the ancient landscape and historical geography of the Umma Province. The March 2018 season primarily aimed to collect pilot data in order to test the robustness of our methodology. During the 10-day season, we were able to survey 4 sites and collect about 300 diagnostic sherds and objects to determine the period of site occupation. The ancient settlements are representative of the type of sites that we anticipate to find in the area: ranging from small to large, flat to tell-shaped, looted to intact, and with varying surface conditions. In addition, the adopted research methodology proved to be successful and the ground experience will allow us to refine our future approach.
Surveying and collecting surface artifacts.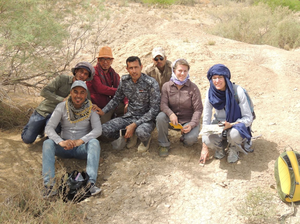 The success of this first season is, in large part, due to collegial collaboration with representatives of the State Board of Antiquities and Heritage of Iraq: Ahmad Khadim, Abdulhassan Makof, and Loay Resan. Their support, dedication, and hard work was instrumental in accomplishing a lot in a very limited time frame. Many thanks also to Eva von Dassow, who accompanied me into the field, for her support. The ability to discuss experiences and concerns with a senior colleague on-site was very valuable and greatly appreciated. I am also very grateful to Sumer University who provided us with free accommodation in their very comfortable guesthouse.
The Umma Survey March 2018 Team – from left: Ahmad Khadim, Abdulhassan Makof, Loay Resan, captain Rodaen Ebadi, policeman Houssam, Eva von Dassow, and Stephanie Rost