Recent Publications by ISAW Professor Dan Potts
The second and third volumes of the five volume Oxford History of the Ancient Near East, edited by Karen Radner (Munich), Nadine Moeller (Yale) and Dan Potts (ISAW) has just been published.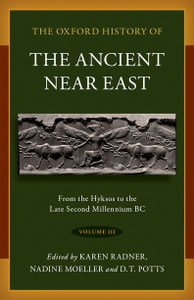 Volume III: From the Hyksos to the Late Second Millennium BC
Volume II: From the End of the Third Millennium BC to the Fall of Babylon contains a dozen chapters extending from the Third Dynasty of Ur and the successor kingdoms of Assyria and Babylonia, to Middle Kingdom Egypt. Volume III: From the Hyksos to the Late Second Millennium BC contains a dozen chapters covering such topics as the Hyksos, Kush, Mittani, the Hittite empire, the Kassites, the Middle Assyrian period, and Elam in the Late Bronze Age. Envisioned as the successor of the much loved but now sadly out of date Cambridge Ancient History series, the Oxford History strives for a comprehensive, comparative and integrative approach to Egypt and Western Asia, that showcases the latest epigraphic and archaeological discoveries in chapters that will be of use to both students and professionals alike. Volume I: From the Beginnings to Old Kingdom Egypt and the Dynasty of Akkad was published in September of 2020, read more here.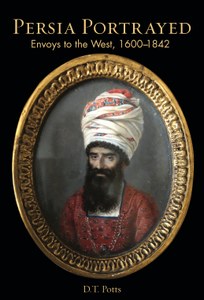 Persia Portrayed: Envoys to the West, 1600-1842 Persia Portrayed: Envoys to the West, 1600-1842, by Dan Potts, was published in May by Mage Publishers. Having delved deeply into accounts produced by Western visitors to Iran from the 15th century onwards, many of which contain important observations on archaeological, historical and technological matters of great interest, it seemed worthwhile to Prof. Potts to examine the travels and experiences of the relatively small number of Persians who travelled to the West. In so doing, it became clear that, as a class, portraits of those Persians had received little attention. Potts' book brings together, for the first time, twenty-nine images — drawings, paintings, etchings, lithographs and even a silhouette — of Persians, done in Boston, Geneva, London, Paris, Prague, Saratoga Springs, St. Petersburg, Vienna and Washington DC, between 1601 and 1842. Some of the subjects were high-ranking individuals who were members of the élite class while others were from modest backgrounds. All were on a mission of one sort or another and portraiture, in the days before photography, commemorated their visits to distant capitals, offering us a rare glimpse at the dress, accoutrements and regalia worn by these visitors to foreign lands.