Queen Puabi in Archaeology and Aesthetics Exhibition
In addition to displaying modern and contemporary art influenced by the ancient aesthetic, ISAW's Archaeology and Aesthetics exhibition features some 50 outstanding ancient objects. Included in these objects are the diadem, headdress, and cape of Queen Puabi, dating to ca. 2500-2300 BCE, found by archaeologist Charles Leonard Woolley in the late 1920s at the Royal Tomb PG 800 at Ur. When the diadem was first uncovered, it was a closely grouped mass of gold, silver, and stone pieces lying above the floor of the tomb. While there was some confusion as to whether all the pieces fit together as a headdress, or were simply a crown, the evolution to "diadem" occurred during the preparation for the British Museum's exhibition of the findings in June 1928. Woolley's final reconstruction of the diadem went unquestioned for more than 80 years- while the iconography was incoherent, the overwhelming colors and opulence continued to strike all who saw it. Woolley's construction was more closely examined in the late 1990s for a traveling exhibition of the Royal Cemetery materials in the Penn Museum's collection. Upon closer inspection, Woolley's findings are now proven to be a group of objects closely related, but  never intended to be understood as a single "diadem."
To learn more about Queen Puabi, visit the Penn Museum's site and watch a video on "Dressing Puabi" here.
And be sure to see Puabi for yourself, on view Tuesday-Sunday 11-6pm at ISAW until June 7th!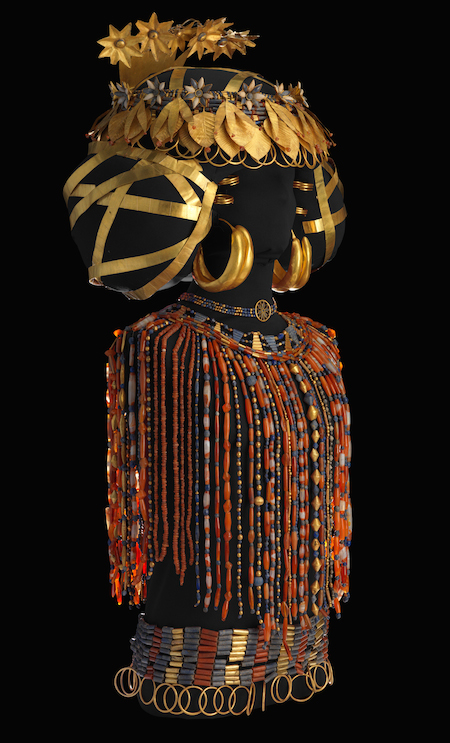 Courtesy of University of Pennsylvania Museum of Archaeology and Anthropology, Philadelphia, PA, (c) 2015 Bruce White