ISAW Papers and the Future of Scholarly Publishing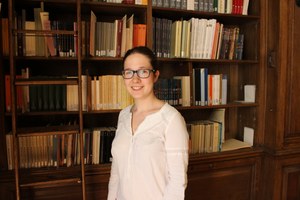 This spring, the ISAW Library welcomes Fanny Mézard from the Ecole nationale des chartes as an intern while she completes her MA thesis. Fanny is working with Sebastian Heath on various aspects of ISAW digital publications. Her internship was organized under the aegis of the strategic accord that NYU President Hamilton signed in December 2016 with Université PSL (Paris Sciences et Lettres), a new research university which integrated some of France's most prestigious institutions, like the École des chartes, into one federated academic research organization. This is the first internship of any sort to be arranged between the two universities under this accord, which to date has largely been used to facilitate intellectual exchange via conferences and doctoral research. Below, Fanny recounts her current research interests what she hopes to accomplish during her internship period at ISAW.
---
More and more journals are choosing to publish their articles online without having any printed version. It offers great advantages: articles are readily available to anyone with an internet connection and can be linked to other resources. It also introduces all sorts of new questions such as: which format should we be using, how will people cite the articles, how can we improve accessibility? These are some of the questions that I will address during my internship at the ISAW Library.
I am currently a student at the École nationale des chartes at the PSL University in Paris, finishing an MA in Technologies Numériques Appliquées à l'Histoire (Digital Technologies for History). This program not only gives me a grounding in library science (e.g., the organization of archives, print collections, libraries, etc.) but also offers coursework in digital approaches to humanities and archival research, teaching, and preservation.
The main goal of my internship is to study the digital publication ISAW papers as an example of new and emerging trends in scholarly communication and to try to identify ways to improve the presentation, discoverability, and access of the publications. ISAW Papers is a perfect project with which to begin. 
My first two months have been spent modifying the html files that were already online so that they could be more easily downloaded in addition to creating an automated workflow that generates eBook versions of ISAW Papers. By making ISAW Papers available in these formats, readers can download the articles and read either on an e-book reader or directly on a computer. You can have a look at the project here. Please let me know what you think! 
I hope that my work will not only help me to develop new skills but that it will also prove useful to ISAW and the wider ancient studies community that interacts with ISAW's scholarship.