Opening Next Month! "Hymn to Apollo: The Ancient World and the Ballets Russes"
What can we know about ancient dance? Why did European avant-garde artists look to antiquity at the beginning of the twentieth century? With an array of ancient representations of dance, Hymn to Apollo: The Ancient World and the Ballet Russes explores both the role of dance in ancient culture and the influence of antiquity on the modernist reinventions of the Ballets Russes, the ground-breaking dance company founded in Paris by Sergei Diaghilev.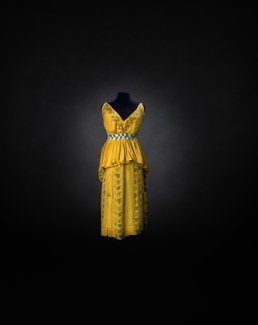 With about 100 works, including outstanding examples of ancient pottery, sculpture, and metalwork, as well as watercolors, sketchbooks, photographs, costumes, and other archival material from the Ballets Russes, this exhibition—the first on the topic—reveals a rich, multifaceted dialogue between the ancient and the modern. More than a simple story of the reception of antiquity by artists in the twentieth century, Hymn to Apollo shows how artists returned to antiquity not as benighted traditionalists but as radical revolutionaries, intent on creating something new.
Top Image:
Adolf de Meyer
Lubov Tchernicheva as a Nymph with Vaslav Nijinsky as the Faun from Prelude à l'Après-midi d'un Faune
1912
Platinum print
H. 16.2 cm; W. 14 cm
New York Public Library, Jerome Robbins Dance Division, Roger Pryor Dodge Collection: (S) *MGZEC 84-819, No. 2007
Image courtesy of the New York Public Library
Bottom Image:
Léon Bakst
Costume for a Nymph, from Narcisse
1911
Dress: Silk and paint with repp detail at waist
Center-back L. 92 cm; Underarm chest ca. 78 cm (unfitted); Waistline 74 cm
Dansmuseet—Museum Rolf de Maré Stockholm: DM 1969/47 
Image (c) Dansmuseet – Musée Rolf de Maré Stockholm