ISAW hosts regional workshop in digital approaches to antiquity
Earlier this month a diverse group of students, scholars, and librarians gathered at ISAW for a day-long conversation about digital projects in ancient studies. The "Digital Antiquity Coffeehouse," as the event on Oct. 2 was styled, was an informal workshop for scholars at any stage in their careers to compare notes on digital works in progress. By any measure the Coffeehouse was a great success. Nearly thirty participants attended, representing a broad cross-section of the ancient studies community, with first-year graduate students and established scholars among the presenters. Topics and methods also ranged widely, stimulating a good deal of comparative discussion across the ancient world, as befits any ISAW event. (The full list of speakers appears at the end of this news item.)
Patrick Burns, for instance, demonstrated how in his dissertation work at Fordham he manipulated data from Tesserae, a digital text project of the University of Buffalo, by writing a series of relatively simple scripts. These in turn helped illuminate surprising but statistically significant linguistic connections between Lucan's epic, the Bellum civile, and the Latin elegists, whose influence has hitherto been considered slight at best.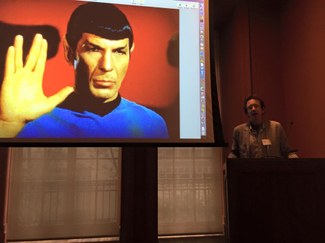 Christine Roughan, a first-year graduate student at ISAW, presented quite a different sort of project. She is working to digitize and encode the manuscripts of Euclid's Elements, after the fashion of the Homer Multitext project, a project with which she has worked in the past. Her aim is to encode in XML (EpiDoc and SVG) both text and illustration from the various manuscripts of the Elements. She seeks to enable deeper and more discrete study of its transmission, including aspects that have been somewhat neglected in the past, such as the diagrams and figures and their precise relationships to the text they illustrate.
Beyond the Greek and Roman worlds, Émilie Pagé-Perron, a graduate student at the University of Toronto, presented on her work to build a more semantically sophisticated database of transliterated cuneiform documents for her research into the religious life of the Mesopotamian city Adab in the third millennium B.C.E, while Visiting Research Scholar Franziska Naether gave an inspiring presentation on the ways in which digital literacy has been incorporated into the teaching of Egyptology at the University of Leipzig.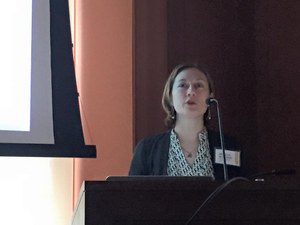 The Coffeehouse was the first in what Digital Programs and the ISAW Library, co-sponsors of the Coffeehouse, intend to become a series of regular public programming focused on the digital humanities and ancient studies, building on the work of the Linked Ancient World Data Institute (LAWDI) and fulfilling ISAW's mission of "of training a new generation of scholars who will enter the global academic community and become intellectual leaders." Funded by the Office of Digital Humanities of the National Endowment for Humanities, LAWDI brought together in 2012 and 2013 an international faculty of practitioners working in the field of Linked Data who were implementing or planning the creation of digital resources for the study of the Ancient Mediterranean and Ancient Near East. The impact of LAWDI's work was not hard to trace in the day's program: ISAW's Tom Elliott and Sebastian Heath, both of whom were lead organizers of LAWDI, each spoke about linked data and the emerging digital landscape of ancient studies; and one graduate student, Alice Lynn McMichael (CUNY) presented digital work on the decoration and architecture of late antique Cappadocian chapels that grew directly out of her LAWDI experience.
Future events will include not only workshops, but also formal conferences on thematic topics, as ISAW Digital Programs and the ISAW Library seek to build community and facilitate scholarly communication in the digital humanities and ancient studies regionally and internationally.
The Oct. 2 LAWDI Digital Antiquity Coffeehouse speakers included: