ISAW's Workshop "Progress, Problems, and Possibilities of GIS in the South Caucasus" published in "Antiquity"
Recently, the distinguished archaeological journal Antiquity published a report about "Progress, Problems and Possibilities of GIS in the South Caucasus: An International Workshop" that was held in Spring 2016 here at ISAW. You can retrieve the report here.
As noted in the publication, the workshop, organized by ISAW Research Associate Karen Rubinson and sponsored by ISAW with additional funding from the American Research Institute of the South Caucasus (ARISC), addressed important issues in applying Geographical Information Systems (GIS) to the study of heavily modified landscapes in Armenia, Azerbaijan and Georgia.  
Both the land-use history and the mountainous terrain provide challenges for collecting and interpreting GIS data, requiring that a new research model be developed for the region.
The workshop, attended by 14 scholars specializing in GIS and the archaeology of the South Caucasus, from the US, Europe and the South Caucasus, benefitted from presentations from representatives of the NYU library system, including Andrew Battista, Librarian for Geospatial Information Systems, Stephen Balogh, Data Services Specialist, and Gabriel McKee ISAW's own Librarian for Collections and Services.  ISAW Professor Sebastian Heath was a session chair.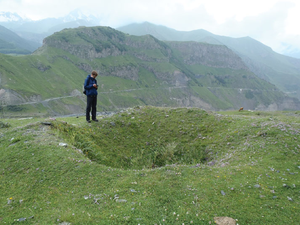 More information on the workshop can be found in the session announcement in the ISAW newsletter and in the post-workshop ISAW blog post.    
Dan Lawrence records an ancient cistern on the Dariali Pass near Georgia's border with Russia, using QGIS open-source software installed on a Trimble Juno 3B handheld GPS (photograph credit: Dariali Pass Survey).