Report from our Judith A. Lerner, Ph.D. Summer Traveler: Braden Cordivari
ISAW is pleased to share the summer travel report from the inaugural Judith A. Lerner, Ph.D. Summer Travel Fund recipient, Braden Cordivari:
Thanks to the generosity of the Judith A. Lerner, Ph.D. Summer Travel Fund, I traveled to Greece, Israel, and Turkey for a combination of archaeological fieldwork, conferences, and independent travel this summer. The ability to broaden my experience in the art and archaeology of the ancient Near East and Iran and to see sites and museums relevant to my planned research on copper metallurgy in the Iron Age was invaluable at this early stage of my Ph.D. 
In Greece, I participated in the Bays of East Attica Regional Survey outside of Athens, working on the metal finds and gaining new experience in archaeological surface survey. I then attended a conference in Tel Aviv, Israel which included a trip to the ancient copper mines at Timna. (Fig 1) This was a fantastic opportunity to see an important site for research into ancient metallurgy, to broaden my geographic horizons, and to meet colleagues working on similar questions in a neighboring region. Scientific analysis is beginning to elucidate the movement of finished goods and sharing of metal technologies across the eastern Mediterranean and ancient Near East in the Iron Age, including Anatolia and Iran, and it was exciting to hear about current developments.
I spent the rest of the summer working on archaeological projects in Turkey. I continued my research on metal production, tumulus construction, and elite identity at ancient Gordion. I also visited key sites in central Turkey that I had not previously had the chance to see, such as Çadır Höyük, Alişar Höyük, Kerkenes Dağ, and Kültepe, which helped broaden my understanding of the archaeology of the region. Kerkenes was particularly impressive to visit, as it is built on a mountaintop and is the largest Iron Age city in Anatolia. It was violently destroyed in the mid-6th century BCE, likely during the Persian king Cyrus's conquest of Anatolia, a reminder of the major transformations that Achaemenid rule of Anatolia ushered in.
These travels and studies allowed me to see further the interconnected nature of the ancient world, including connections with Iran. In fact, everywhere I traveled this summer was at one point or another part of the Achaemenid Persian empire during the Iron Age. In Greece, the Persian Wars were an important touchstone in ancient identity, both in Athens and elsewhere. Meanwhile at Gordion, the landscape still bears a reminder of the Persian siege in the form of a large earthen ramp built by the attackers to seize a fort protecting the city. (Fig 2)
Many parts of the eastern Mediterranean and ancient Near East enjoyed a period of relative stability and prosperity under the Achaemenids, however. I saw evidence of this local engagement with these ideas and material culture in the Achaemenid ritual vessels on display in the Eretz Israel Museum in Tel Aviv. (Fig 3) It was stimulating, too, to think about how someone in antiquity would have experienced my travels not by plane or car between different countries but on foot between different satrapies on the series of roads that bound the empire together and created a shared interconnected world of the Iron Age.
The opportunity to have these exploratory learning experiences in a new country and to travel more widely in my planned area of study as I begin research was invaluable, and I am again grateful to the Judith A. Lerner, Ph.D. Summer Travel Fund and ISAW for supporting me at this early stage.
Figure 1: Braden at the ancient copper mines of Timna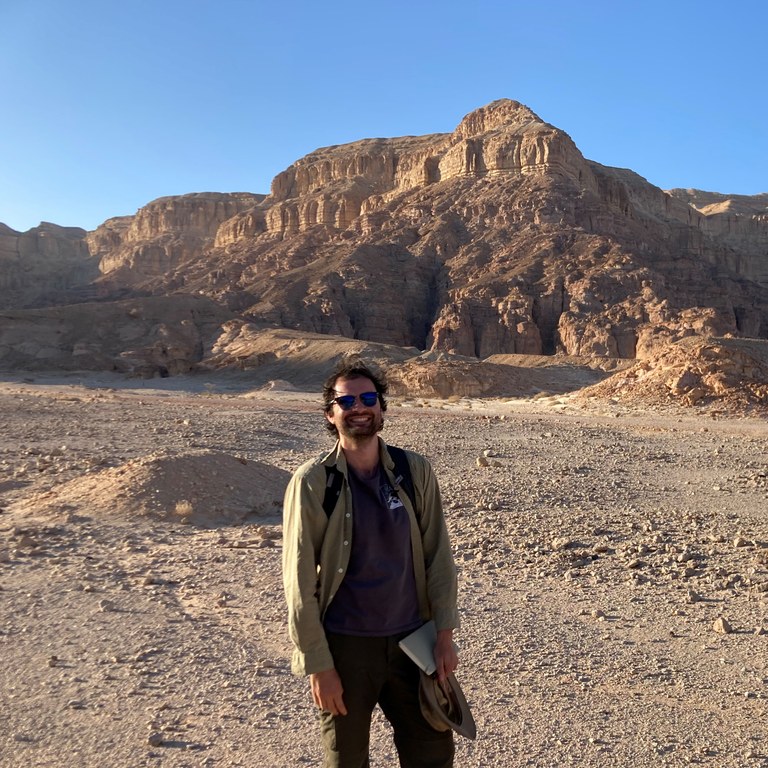 Braden Cordivari pictured in front of the ancient copper mines of Timna during his time abroad
Figure 2: The siege ramp over an Iron Age fort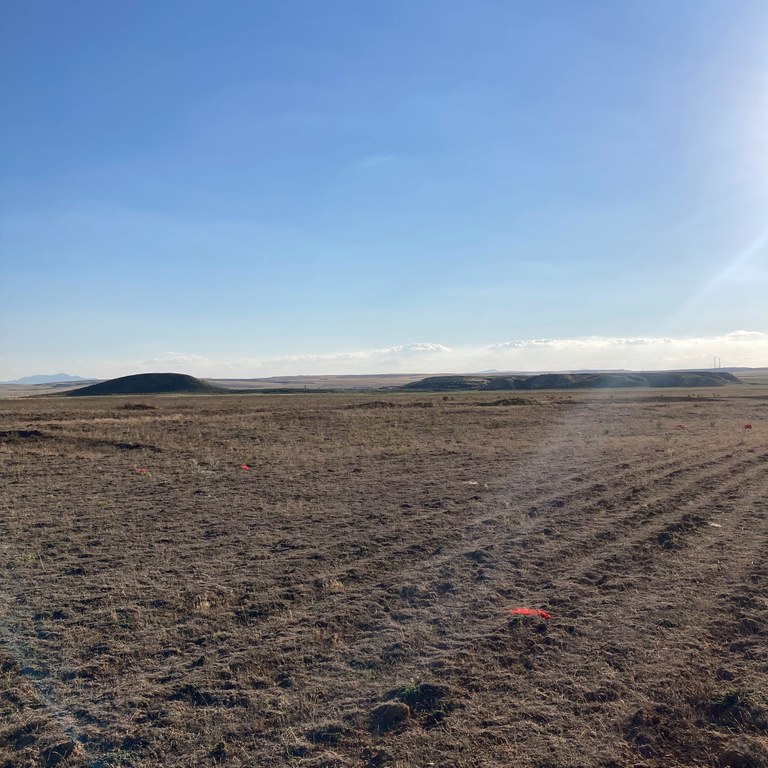 This siege ramp over an Iron Age fort was built by the Persians in an attempt to capture the city of Gordion. One can still walk up the ramp and over the ancient walls today.
Fig. 3: An Achaemenid-style ritual vessel in the Eretz Israel Museum, Tel Aviv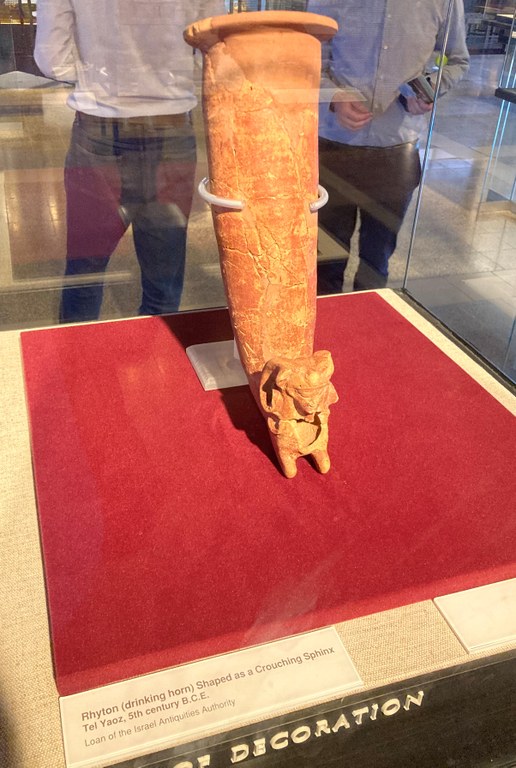 Achaemenid-style ritual vessel on display at the Eretz Israel Museum in Tel Aviv