ISAW PhD candidate Emily Frank awarded a 2023-2024 Rome Prize Fellowship
On April 24th, 2023, the American Academy in Rome announced that ISAW PhD candidate Emily Frank was awarded the 2023-2024 Suzanne Deal Booth Rome Prize in Historic Preservation and Conservation. She is one of two recipients in the category "Historic Preservation and Conservation." E. Frank's project is entitled "Object Agency and Intervention in Roman Art," which is also the topic of her dissertation.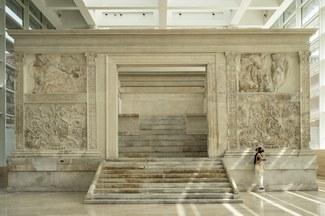 Emily Frank examines details on the so-called Altar of the Augustan Peace in Rome, an important monument of the early Roman empire.
The American Academy in Rome was founded in 1896 and the fellowships it awards are among the most prestigious given to artists and scholars working in a wide range of creative and humanistic fields. In this cycle, there were nearly one thousand applicants from which 36 half- or full-term fellowships were awarded. The faculty, staff, and students at ISAW all congratulate Emily on this substantial honor and significant achievement. The chair of her dissertation committee, Dr. Sebastian Heath, commented, "Emily's work is deeply original. It places issues of repair and reuse at the center of Roman Imperial art in a way that builds on existing scholarship while also pushing that forward. We are all thrilled that she'll have the opportunity to pursue this work in Rome itself."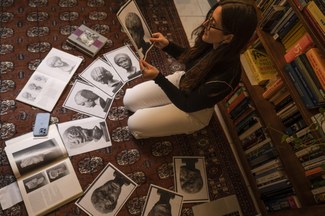 Emily Frank compares photographs of Roman portrait busts.
E. Frank came to ISAW with an MA/MS from the Conservation Center of the Institute of Fine Arts, New York University after having also received an MA from the Institute of Archaeology, University College London. She continues her practice as an objects conservator, holding a position at the Smithsonian's Cooper-Hewitt Museum in New York and working in the private sector at EBFC (Emily B. Frank Conservation). This ongoing involvement with artworks of all periods gives her a unique perspective on the opportunities that existing objects presented to Roman craftspeople. The Rome Prize is itself an opportunity to push forward on her dissertation and enrich the final product.