ISAW Alumna Irene Soto Marín to Lead New Research Project at University of Basel
The Department of Ancient History at the University of Basel has just announced the new project "Nomisma: Measuring Monetary Integration in the Late Roman Empire," led by ISAW alum Dr. Irene Soto Marín and funded by the Forschungsfonds Nachwuchsforschende of the University of Basel.
With Late Roman Egypt at the center, the project will measure currency patterns during the fourth and fifth century CE obtained from coins found in archaeological contexts throughout the Empire, in order to measure the level of monetary integration after the reforms of the emperor Diocletian, who abolished Egypt's closed currency system in 297/298 CE.
The project will be hiring four research assistants and will also hold Digital Humanities trainings in databases and mapping tools, which will be scheduled throughout the year.
The culmination of the project will be a monograph analyzing the level of monetary unity and integration in the Late Roman Empire during the fourth and fifth century CE and an open-source online database.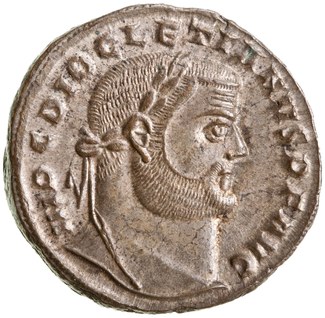 Bronze AE1 of Diocletian, Alexandria, AD 301. 1935.117.7, American Numismatic Society
Bronze AE1 of Diocletian, Alexandria, AD 301. 1935.117.7, American Numismatic Society http://numismatics.org/collection/1935.117.7?lang=es