Graduate Student Amber Jacob Co-Organizes Copenhagen Conference on Ancient Egyptian and Greek Science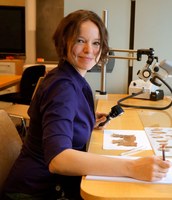 You never can tell where life will take you, and sometimes you have the occasion to step back and look at where you are today, take a mental snapshot, and wonder if a younger version of yourself would have anticipated its future self being there, in that moment. On just such an occasion, I recently found myself at the close of my first academic year as a PhD student, standing at a podium in front of a room full of distinguished scholars and students from six countries, cracking an anus-joke.
The occasion was a paper I was giving in Copenhagen on ancient Egyptian proctology (the branch of medicine dealing with the anus), titled "Proctological Treatments in the Carlsberg Demotic Medical Corpus." The mentioned corpus is the largest (albeit highly fragmentary and entirely unpublished) collection of Egyptian medical texts from the Graeco-Roman period to have come down to us, housed in the Papyrus Carlsberg Collection at the University of Copenhagen. My doctoral work at ISAW is directed towards the editing and publication of this corpus of papyri. Seven manuscripts have so far been identified, containing pharmaceutical prescriptions for a variety of ailments. The largest portion of these texts are concerned with – you guessed it – the anus: what comes out of it, what goes wrong with it, what should be put into it (which is a lot more than you might guess), etc. Suffice it to say, my work is never dull.
The event was a conference broadly organized around the topic of ancient Egyptian and Greek science, with a focus on the unpublished material in the Papyrus Carlsberg Collection (Ancient Egyptian Scientific Literature in the Papyrus Carlsberg Collection, Copenhagen, May 2018). It was organized by a colleague from the University of Copenhagen (UCPH), Sofie Schiødt, and myself. Previously, Schiødt and I worked in tandem on our closely parallel MA theses at UCPH, hers on the Hieratic medical papyri in the Papyrus Carlsberg Collection, mine on the Demotic. That collaboration, orchestrated by our respective supervisors, Fredrik Hagen and Kim Ryholt, proved to be beneficial to us both and resulted in our each being granted publication rights to the entirety of the Hieratic and Demotic medical papyri (respectively) in the Collection. Our continued collaboration has been supported by our supervisors at UPCH (Hagen and Ryholt) and ISAW (Alexander Jones and Claire Bubb) and has since grown to include two further PhD students engaged in the publication of scientific texts in the Papyrus Carlsberg Collection: Anne Grons of the Freie Universität Berlin, who is editing Coptic medical texts, both in the Collection and elsewhere, and Lingxin Zhang of Johns Hopkins University, who is editing Demotic astrological texts both within the Collection and elsewhere. In addition to our supervisors from our four institutions, the collaboration has further grown to include post-doctoral and professorial scholars from a variety of institutions experienced in editing scientific papyri and willing to support our work.
The conference was part of a two-day event organized around the first meeting of this collaborative group, which is proceeding under the project Scientific Papyri from Ancient Egypt (SPAE), headed by Prof. Kim Ryholt. The first day comprised the conference proper, open to the public, including papers by the four PhD students and a selection of the professorial collaborators. The conference attracted scholars and students in Egyptology, Classics, Near Eastern Studies, the History of Science, the UPCH Medical department, and a reporter from Science Nordic, for which I was interviewed on my work on the Carlsberg papyri. The second day involved a closed workshop in which each of the four doctoral students was allotted a session to present problematic readings or interpretational difficulties in their texts to the panel of specialists involved in the collaboration for feedback and guidance. Future plans of the SPAE project were also discussed, and it appears that if all goes well, ISAW will host the next conference here in New York in the fall of 2019. Conference proceedings including papers from the two successive conferences will then be published.
I am deeply grateful to my supervisors at ISAW, Alexander Jones and Claire Bubb, for supporting this collaboration and accompanying me to Copenhagen, to my supervisor at UCPH, Kim Ryholt, who continues to support my work and supervise my degree at ISAW, and to the SPAE collaborative for supporting junior scholars engaged in the difficult task of text editing. We would also like to thank the Carlsberg Foundation for generously sponsoring our 2018 conference.