Field Report: Digging at the Edge of the Tian Shan Mountains in Kazakhstan
The Kazakh-American Archaeological Expedition, sponsored by ISAW and a National Science Foundation grant, began its 21st excavation and survey season in the Talgar Region, about 25 miles east of Almaty in mid-September. Dr. Claudia Chang and Mr. Perry A. Tourtellotte along with a team of local archaeologists and outside specialists continued our excavations at Tuzusai, an Iron Age settlement dating from 400 BC to AD 100. This season we are excavating Pit house #9, a 4 m in diameter semi-subterranean earthen pit house that is about 1.5 meters deep. The house has floor layers interspersed with garbage deposits of animal bones of sheep and goats, cattle, horses, and Bactrian camel. There are fragments of bowls, pitchers, and storage jugs, usually red-slipped and all handmade.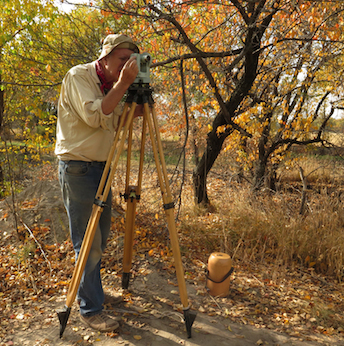 Perry A. Tourtellotte using the transit for measuring depths of archaeological finds at Tuzusai.
Tuzusai is a complicated settlement about 6 to 8 hectares in size and is located right outside the village of Alatau, home of the Institute for High Energy. It is situated in a tract of land between major agricultural fields, threatened by future infrastructure and housing developments. The site consists of two periods of occupation, an earlier phase of Saka (ancient Scythians or horse-riding nomadic confederacies written about by the Greeks and Persians) and a later phase of Wusun (nomadic confederacy described by the Han Dynasty Chinese chroniclers). It is a site of importance because it is one of the first nomadic settlements where evidence of agriculture, in the form of ancient charred seeds of wheat, barley, and two millets, exists. We have also found the usual component of domesticated animals:  sheep, goats, cattle, horses, and a few kulan and camel bones.
This week Dr. Isaac Ullah, post-doctoral fellow at Arizona State University, will arrive for a week of surveys along the alluvial fans in the Turgen region to the east of Talgar. Our goal is to conduct walking surveys in order to locate burial kurgans and settlement sites of the Bronze through Medieval period. These surveys will be used in developing a computer simulation model for ancient land use of Iron Age herders and farmers along the northern edge of the Tian Shan Mountains from the Ferghana Valley to Western China.
The main objective of our fall field season is to test models for ancient herding and farming settlement in the environmental and geopolitical interstices between the Central Asian kingdoms and the Chinese empire during this critical period before and during the official opening of the Silk Route. The lives of everyday common members of nomadic confederacy, supporting a nomadic aristocracy by both herding and farming, will be discovered through our surveys and excavations.