Bagnall Receives the Paideia Institute's Arete Award
The Paideia Institute, a non-profit organization with the mission of revitalizing the teaching of the Latin and ancient Greek language and classical culture, awarded Leon Levy Director Emeritus Roger Bagnall with the Arete Award at Paideia's first annual Benefit Dinner on May 14th.
The Arete Award was presented by Anthony Grafton honoring Professor Bagnall's "long career of teaching, scholarship, and institutional leadership devoted to the study of the ancient world" and his many contributions "to the development of the humanities and our knowledge of antiquity, and service in leadership positions in numerous scholarly societies."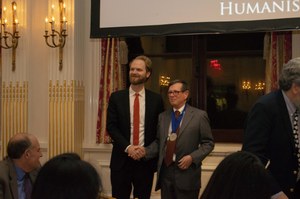 The funds raised at the Dinner will go to support the work of the Paideia Institute, including study abroad programs teaching Latin and Greek language, literature, and material culture in situ in Italy, Greece, and France. The Institute also runs domestic outreach programs such as Aequora, an after-school program that offers free Latin and Greek instruction in underserved communities to improve students' English literacy. 
Jason Pedicone, President of the Paideia Institute, with Roger Bagnall