Statue of Amenirdas I, the Divine Consort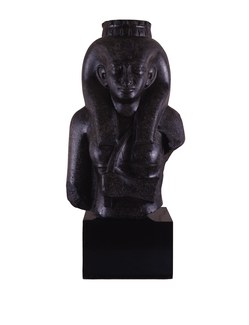 Statue of Amenirdas I, the Divine Consort
Granite; H. 66 cm; W. 38 cm; D. 30 cm
Egypt; XXV Dynasty (ca. 700 BCE)
Museum Purchase; Joslyn Art Museum, Omaha, Nebraska: 1953.80
© Courtesy of the Joslyn Art Museum, Omaha, Nebraska
One of the sisters of Piye, the first pharaoh of the Twenty-fifth Dynasty (r. 752–722 bce), Amenirdas was nominated as Piye's regent in Thebes in 730 bce. There, she served as the Divine Consort of the god Amun, the supreme religious office for a priestess operating in the religious capital of Egypt. As the divine wife of the main divinity of the Theban triad (Amun, Mut, and Khonsu), Amernidas had considerable religious and economic power: indeed, she oversaw the daily rituals performed at the temple of Amun-Ra while also administering the temple's treasure, its storage facilities, and management of personell and supplies. Numerous statues were erected in her honor in Thebes and other Egyptian cities. In this portrait Amernidas is dressed in a simple sheath dress, a three-part wig with a now-broken uraeus on her forehead, and a crown made of a ring of uraei. She holds a lotus flower, a symbol of Upper Egypt and of Isis, and an attribute that will also appear on later statues of Ptolemaic queens. While Amernidas's attire conforms to Egyptian tradition, the rendering of her facial features—especially the broad oval, fleshy cheeks and the heavy eyebrows—accentuates her individual character and ethnicity and constitutes a stylistic departure from the idealized portraits of earlier Egyptian queens.
Egyptian sculpture of the late period, 700 B.C. to A.D.100. The Brooklyn Museum, 1960. 1-2, no.1.
A. K. Capel. Mistress of the House, Mistress of Heaven: Women in Ancient Egypt. Hudson Hill Press, Cincinnati Art Museum, 1996. 115-117, no.48.