Relief Plaque Depicting a Lion with Demotic Inscriptions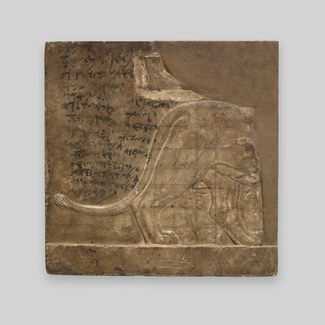 Relief Plaque Depicting a Lion with Demotic Inscriptions
Limestone; 

L. 19.4 cm; W. 19.1 cm; D. 1.3 cm
Museum Purchase Fund; 

Art Institute of Chicago: 1920.254
© Courtesy of the Art Institute of Chicago
This fragmentary plaque was originally used as a practice piece before preparation of larger relief scenes, or as a model for apprentices to copy, as the grid lines suggest.
After the piece broke, its surface was reused to record a list of names that does not seem related to the existing decoration or to the object's original function. The inscription is now partially faded and difficult to interpret. However, it is possible to recognize the first name as that of a lesonis, a high-ranking official appointed by the central government to supervise the financial administration of a major temple.
N. Samir Tomoum. The Sculptors' Models of the Late and Ptolemaic Periods. A Study of the Type and Function of a Group of Ancient Egyptian Artifacts. American University in Cairo Press, 2006.