Miniature Bust of Ptolemy XII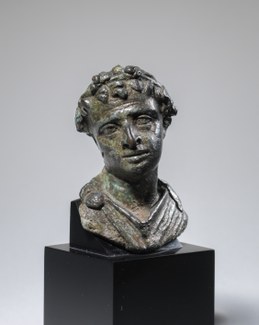 Miniature Bust of Ptolemy XII
Private Collection, USA
Miniature bronzes with depictions of the Ptolemies were certainly popular among the Greek elites. Relatively few examples survived antiquity, as bronze was commonly smelted and reused, but numerous ancient sources describe the increased production of prestige items—bronze statuettes but also cameos and gold medallions—that were decorated with the effigies, in Greek guise, of the ruling king and his spouse. Donated by the king to members of his court or to dignitaries from the rivaling Hellenistic kingdoms, they provided an effective and refined way to disseminate images of the ruler, inspire loyalty, and transmit propaganda.
This bronze statuette of Ptolemy XII, with its well-thought-out details, particularly the wine leaves, emphasizes the association between the king and the god, a tradition that was initiated early on by the first Ptolemaic rulers.
Cleopatra's Egypt: Age of the Ptolemies. The Brooklyn Museum, 1988. 155-156, cat. 58.