Head from a Statuette of Wesirwer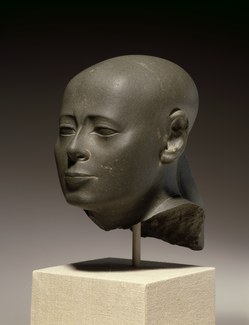 Head from a Statuette of Wesirwer
Schist; 

H. 15.2 cm; W. 8.9 cm; D. 11.4 cm
Thebes (Karnak); 

380–342 BCE
Charles Edwin Wilbour Fund; 

Brooklyn Museum: 55.175
© Brooklyn Museum Photograph
This head was once part of a statue (now divided among different museums) that depicted Wesirwer, a name meaning "Osiris is great." An official and priest in Thebes at the service of the god Montu, Wesirwer was depicted as carrying in his hands a representation of the Theban triad Amun, patron of Karnak, Mut, and Khonsu. The abstracted rendering of Wesirwer's facial features suggests that the statue was intended as an idealized presentation of the priest and not as an individualized portrait.
Egyptian Sculpture of the Late Period, 700 B.C. to A.D. 100. The Brooklyn Museum, 1960. 105-106, no. 83, Figs. 205-206.
Cleopatra's Egypt: Age of the Ptolemies. The Brooklyn Museum, 1988. 117-118, cat. 25.