Fragmentary Head from a Statuette of a Man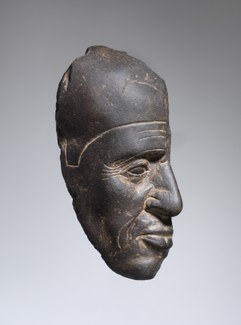 Fragmentary Head from a Statuette of a Man
Basalt; 

H. 7.8 cm; W. 4 cm
Kom Abu Billo (Terenuthis); 

1st century BCE
Anonymous Loan; formerly in the Christos G. Bastis Collection
This statuette of a high official was not meant to reflect the man's actual physiognomy, but rather to follow a highly codified repertoire of forms. Indeed, the anonymous head, though treated with particular attention to the facial features and expressions, most probably did not correspond to the man's portrait but rather utilized the signs of age as idealized symbols of social status and dignified maturity.
Antiquities from the Collection of Christos G. Bastis. New York, 1987. 93-94, no. 36.
Cleopatra's Egypt: Age of the Ptolemies. The Brooklyn Museum, 1988. 135, cat. 40.