Statuette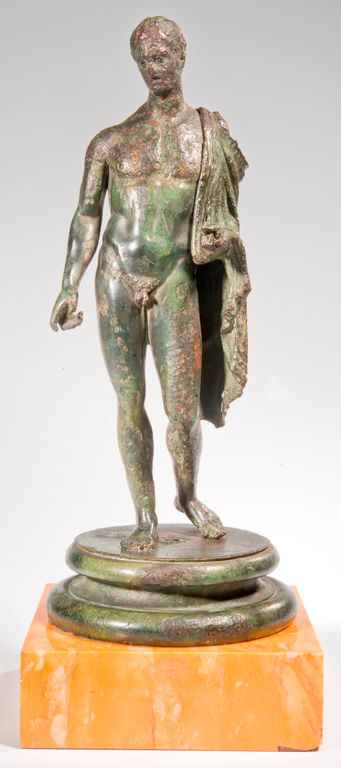 Statuette of Mercury
Description:
Medium:

Bronze, copper, and silver
Dimensions:

H. 30.5 cm (greatest extent) Object (base) H. 4 cm; W. 12 cm; D. 12 cm
Context:

Sous-Parsat, France
Date:

Roman, 1–100 CE
Inventory Number:

Bronze.315
Lender:

Bibliothèque nationale de France, Paris
Label:

Mercury probably once held a caduceus (a snake-entwined staff) in his left hand and a moneybag in his right. His cloak is accented by bands of copper and three silver stars. Excavated at Sous-Parsat in central France in 1824, this sculpture was found with the gilded-silver statuette of the goddess of victory seen on the right, as part of a temple treasure to Mercury.
Serge Oboukhoff © BnF-CNRS-Maison Archéologie & Ethnologie, René-Ginouvès